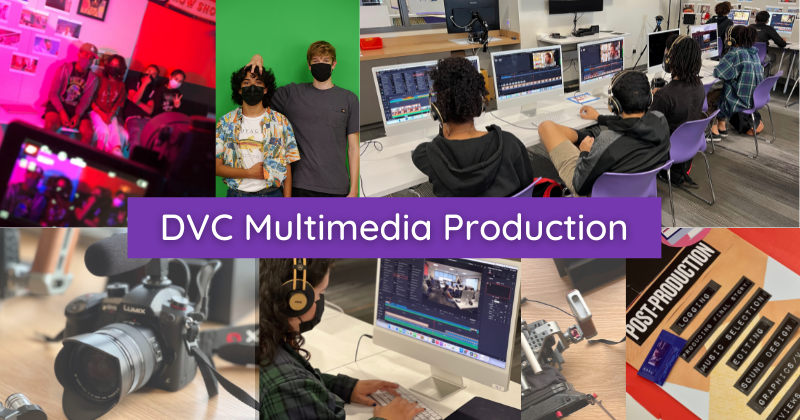 Learning by Doing: There's a Content Explosion at Da Vinci Communications
Everywhere you look these days, companies and audiences are clamoring for new digital content. Viewers are hooked watching content at home and on their mobile devices. Content is king, but who knew the king would be so demanding? 
Students in the Media Production pathway at Da Vinci Communications are answering the call by producing creative and authentic content in their career pathway class. 
Students are quickly becoming adept at the tools of the trade, from professional cinema cameras (Blackmagic) and editing software (DaVinci Resolve), to camera stabilizers (DJI), a variety of microphone kits for high quality sound recording, production management software (StudioBinder), and new Apple M1 iMacs. In partnership with the Da Vinci Health Office, DVC Media Production students recently wrote, filmed, edited and produced scripted commercial video campaigns to convey health and safety practices for in-person school during a pandemic. 
While each group had a producer, director and editor, every student was required to create their own video — using the same footage from their group — in order to learn the editing software. 
The resulting student-produced videos are creative, playful and impressive. In "Staying Safe," Colin and John modeled their video on an old-time radio skit. Mia, Amonie and Sierra opted for a suspenseful zombie outbreak in their video titled "Outbreak." Billy, Victor and Jayce shot their video, "Hoop Dreamz," on the basketball court. 
>> Check out a sampling of the student-produced Media Production Health & Safety videos here 
During a recent class presentation, students shared some of their biggest challenges in creating digital content: matching the audio to the visuals, correcting color, scheduling the actors, and finding appropriate music. 
DVC's Media Production pathway courses are taught by Tangier Clarke, a working professional and award-winning editor and post-production supervisor with nearly 20 years of industry experience. Tangier also teaches a Stagecraft seminar where students are learning how to operate the new audio, video, and lighting tools in the control room of the Black Box Theater. 
Da Vinci high schools offer Career Technical Education (CTE) coursework as part of our core curriculum to prepare students for the workforce. DVC students are creating rich new content in all four of its career pathways:  Multimedia Production, Computer Science, Marketing and Multimedia Journalism.
Da Vinci's industry partners help define the knowledge and employable skill sets students need for in-demand jobs across a wide range of local industry sectors. Da Vinci is the recipient of several state CTE grants to support this work.