"Da Vinci Schools are among the very finest I've seen."

-- Dr. David Brown, former Executive Director, Western Association of Schools & Colleges (WASC)
Our vision is to prepare a new generation of students to lead, innovate and thrive in the modern world. We will know this vision is fulfilled when students come back years after graduating and tell us about their success in college, their accomplishments as career professionals, and about their overall attainment of happiness and purpose in life.
In 2021-22, we safely returned to in-person learning and expanded our impact where it was needed most. We launched new initiatives around students' social-emotional well-being and success, education-to-employment, and equity to address our community's needs.
We invite you to read our 2021-22 Impact Report. We are deeply grateful to our Da Vinci community of students, families, staff, board members, community partners and friends who make our work possible.
Da Vinci Graduate Results
96
%
of Da Vinci graduates have successfully completed the A-G college entrance requirements (a rate 16% higher than the State Average)
87
%
of Da Vinci graduates enroll in college immediately after high school (a rate 23% higher than the State Average)
92
%
of Da Vinci graduates persist in college and return for their second year (a rate 16% above the National Average for all college types)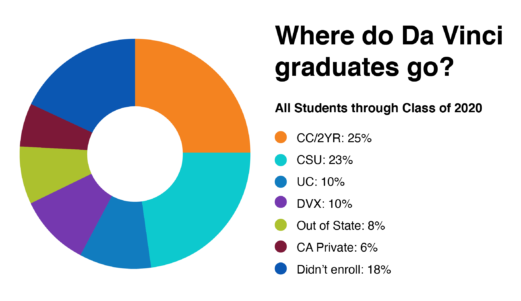 Where do Da Vinci graduates study?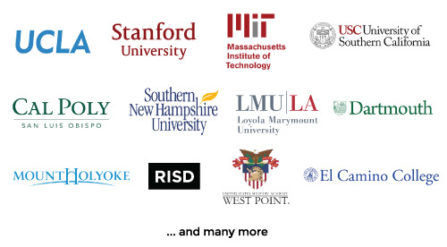 Da Vinci Alumni Outcomes
92
%
Da Vinci students persist and retain enrollment in college at higher than the national rates (16% higher than National Average)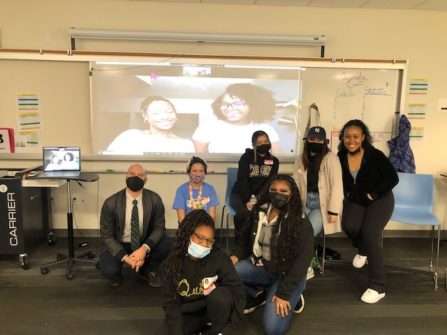 Real World Learning Impact
100%
of Da Vinci students participate
in our Real World Learning
Program
40%
of our graduates participate in
work experience or internship
opportunities
Da Vinci's Real World Learning students
are more likely than their peers to
enroll in college directly after high school,
and more likely to persist in college
for second and third years of studies
based on 4-years of alumni data