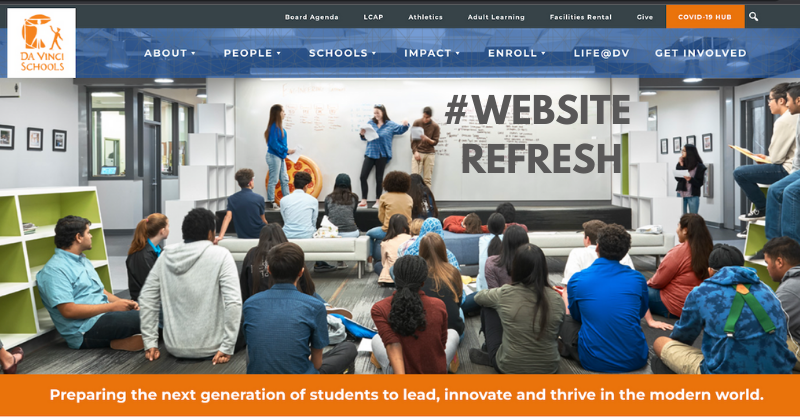 Announcing the Launch of Da Vinci Schools' Newly Refreshed Website
Redesigned Site Improves Navigation and End-User Experience
Da Vinci Schools officially launched its refreshed website (www.davincischools.org) this week, offering prospective students, their families, community members, educators, partners, and current families a top-notch user experience through improved navigation and streamlined informational pages. Updates were informed by analytics to help guide content, navigation, and best practices. The website is hosted on a new, faster server with enhanced security.
New pages on the website include a new "digital front door," Life@DV, Our Approach, Get Involved, and an expanded Resources A-Z, one of the site's most popular pages.
Top 7 reasons to check out the redesigned Da Vinci Schools' website:
Updated navigation: Main menu and top navigation have been completely redesigned. It's a much cleaner and more efficient experience to help you find the information you need.
Mobile responsiveness. Check out the website on your mobile phone and tablet for an improved mobile experience.
New ways to explore our programs: Learn about what makes Da Vinci Schools' college, career and life curriculum unique or get to know us through virtual tours, information meetings and student chats.
Apply to Da Vinci Schools quickly and easily
Social Media Channels: Scroll through our Instagram feed to see our latest posts. Give us a follow @davincischools_org to keep up with all things Da Vinci.
Helpful resources and important links: Discover Da Vinci's approach to learning, locate your teacher's email, find a club or sports team to join, learn about Da Vinci's Strategic Plan, find the latest COVID updates, donate to your child's school, view the latest board agenda. Everything is online.
Updated information: Website updates are added on a regular basis — all to keep students and families informed and engaged!
"Our aim was to improve the end-user experience in terms of both web navigation and message clarity," shared Director of External Relations Carla Levenson.
The web redesign team was led by Carla Levenson (Director of External Relations), Kevin Hunley (Full Stack Web Developer), Zumwinkle.com, and Studio Roja.
Tell Us What You Think!
Your feedback is important as we strive to develop a website that is valuable to you. If you have any questions or comments regarding the content, navigation or visual aspects of the site, we encourage you to email us at info@davincischools.org.