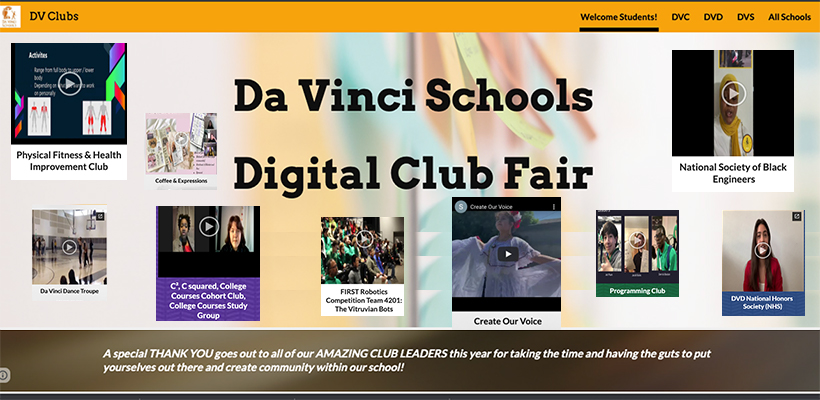 Students Find Community in Virtual Clubs
By Kian S., DV Design '21
In normal years, the Da Vinci Club Fair is a sight to behold. Reminiscent of a vibrant fish market, dozens of club leaders excitedly jostle for students' attention.
"Save our marine life!"
"Level up your boxing skills!"
"Support the LatinX Student Union!"
And although we are now learning in a virtual environment, that has not stopped student leaders from creating and promoting their mini-communities. Clubs are the perfect method for students to explore and share their passions while making connections across schools and grade levels. This year, Da Vinci Schools offers over 50 unique clubs for high school students, ranging from Pride Club and Society of Women Engineers, to Samurai Sewing and Black Student Union. With all of these options, there's sure to be something for everyone!
This year, most clubs are meeting weekly, either during lunch or before/after school, and are held through video chat. In the process of creating a club, student leaders created short video ads showcasing their purpose and goals. Sofia Ramirez, a senior at Da Vinci Design, describes one of the new club offerings this year: "Create Our Voice is a space where students are free to express cultural differences as well as their opinion on major social injustices through art such as painting, drawing, poetry, and photography. Through this club, we are building a safe space where all cultures and communities can come together in unity to represent who they are and fight for their causes."
In times like these where we are living much more isolated than the norm, clubs are more essential than ever because of the opportunities they provide for students to connect and grow.