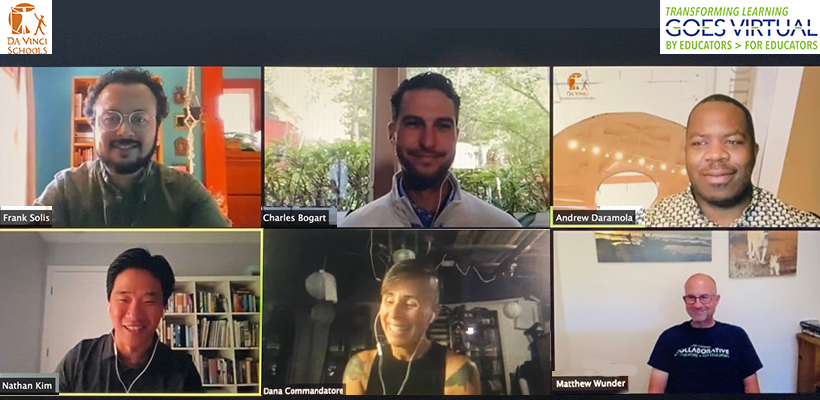 Envisioning the Future of Work
What does the future of work look like? A panel of three industry professionals offered their visions in a virtual session last week during the 2020 Transforming Learning Goes Virtual conference hosted by Da Vinci Schools.
The panelists, all of whom are deeply involved with Da Vinci Schools, included Nathan Kim, Principal and Education Studio Director at Gensler; Dana Commandatore, EVP, Executive Director of Creative Operations at Deutsch; and Charles Bogart, Project Manager at Boeing. Moderator Andrew Daramola, assistant principal at Da Vinci Communications, asked panelists about their insights on changing workforce trends due to COVID-19, best practices in remote work and learning, and tips for how to better prepare students for the future of work. >> Listen to the Future of Work discussion
All of the panelists spoke about the importance of communication and checking in with one another while working or learning remotely. "Take the time to reach out to them (both students and employees) and make individual connections," said Kim. "Culture is about people, taking care of people, and really connecting and being intentional."
Showing initiative, taking risks, and being patient will help students succeed in the workplace. "Create the culture that you see lacking. Be a problem-solver, take the initiative. We want to hear your ideas," said Commandatore. "Failure is a learning experience," said Kim. "It's up to you (students) to make the most of your internship. You get what you put into it," said Bogart.
The industry panelists said it's important that students learn how to write professional emails and treat Zoom like a professional work environment. Commandatore, the parent of a Da Vinci Extension student, said industry partnerships and real-world learning are her favorite aspects of Da Vinci.
The Transforming Learning Goes Virtual event kicked off on Oct. 15 with a welcome by Da Vinci CEO Dr. Matthew Wunder and Da Vinci Institute Assistant Director Frank Solis, followed by the Future of Work panel. Other sessions included: project-based learning in a virtual landscape, a Da Vinci administrator perspectives panel, building learner agency through inquiry learning at home, and facilitating speech and language development during virtual learning. The free two-day event, hosted by Da Vinci Institute, attracted more than 140 educators from around the country.