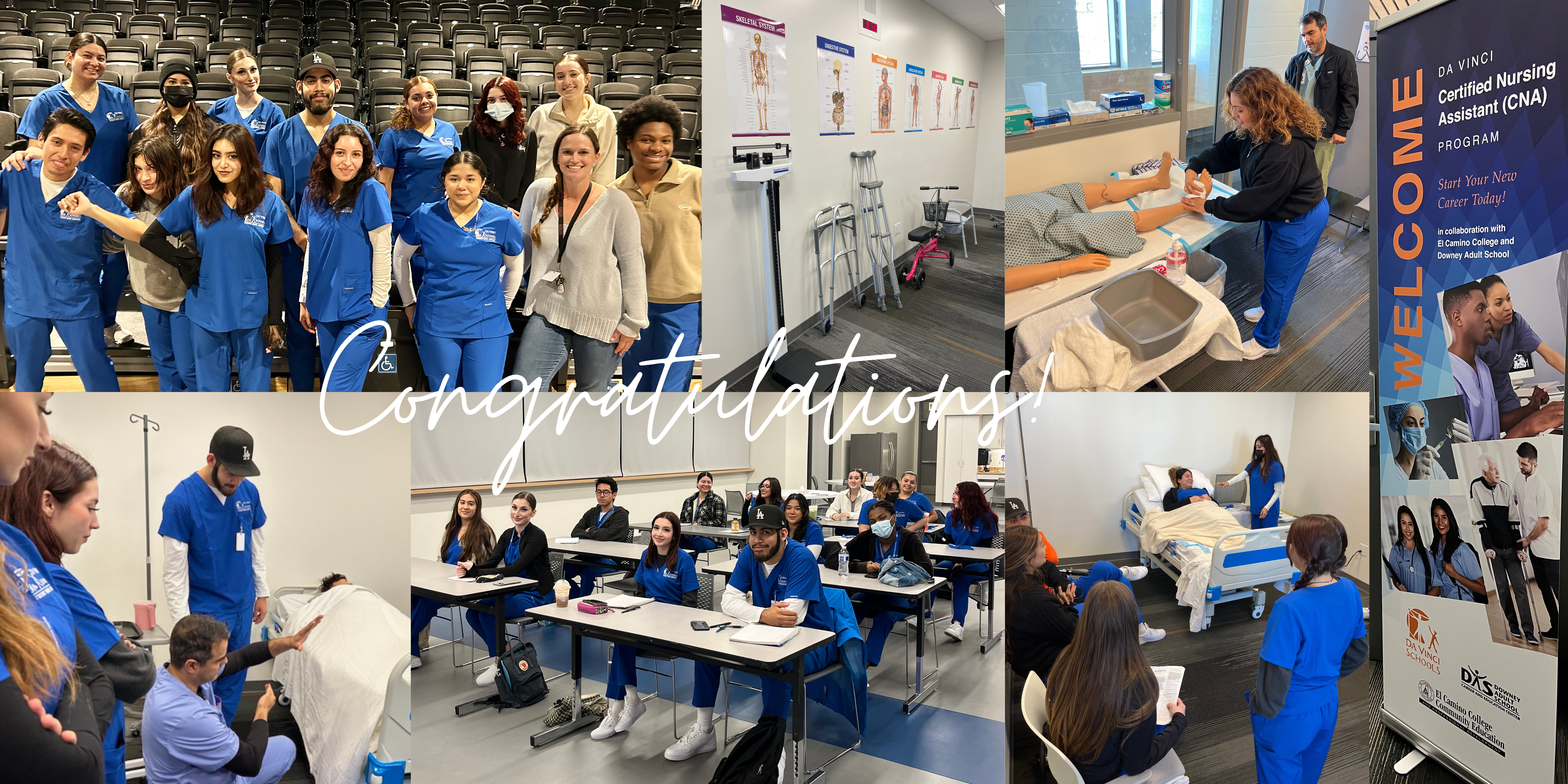 Da Vinci Alumni Excel in Certified Nursing Assistant Training Program
In January, Da Vinci Schools welcomed back 13 alumni enrolled in our first-ever Certified Nursing Assistant Training Program. It's an exciting step forward in Da Vinci's mission to expand our career-connected learning opportunities that lead directly to good paying, in-demand jobs.  
Partnering with El Camino College and Downey Adult School, the eight-week training program delivered an engaging curriculum that helped students gain the knowledge and skills needed to pursue their dreams of a career in nursing. With an aging population that is surging in California, the need for skilled and dedicated nursing assistants is greater than ever. 
For Da Vinci alum, Madison Menjivar, the CNA program is the first step in pursuing a career as a Registered Nurse. While previously enrolled in the architecture pathway at Da Vinci Design, she aspires to help others as a nurse in a trauma center.  She was thrilled to find a hands-on program that could quickly give her the skills she needed to get started on her path to success. Students in the CNA program learned and were tested on basic nursing skills, supporting the activities of daily living, moving and transferring patients, rehabilitation strategies, and emergency care. Upon completing the CNA Training Program at Da Vinci, she's now one step closer to achieving her goals! 
It wasn't an easy journey, but all 13 students who completed the program passed the CNA exam earlier last month – a 100% pass rate. For Madison, commitment is key to success in this program, stating that the "resources, instructor, help, and knowledge are all there, but it depends on the commitment you bring to the table."
With 10.8 million unfilled jobs in the U.S., Da Vinci Schools is committed to addressing the skills mismatch between the skills employers are seeking and the skills possessed by job seekers. The CNA program is a great example of providing students with the real-world skills needed for in-demand jobs. 
Congratulations to the 13 Da Vinci alumni who successfully completed the program and earned their CNA certifications! We are so proud of you!! And a huge shout out to Dr. Emily Green, Da Vinci's Director of Health Services, who brought this opportunity to our students.