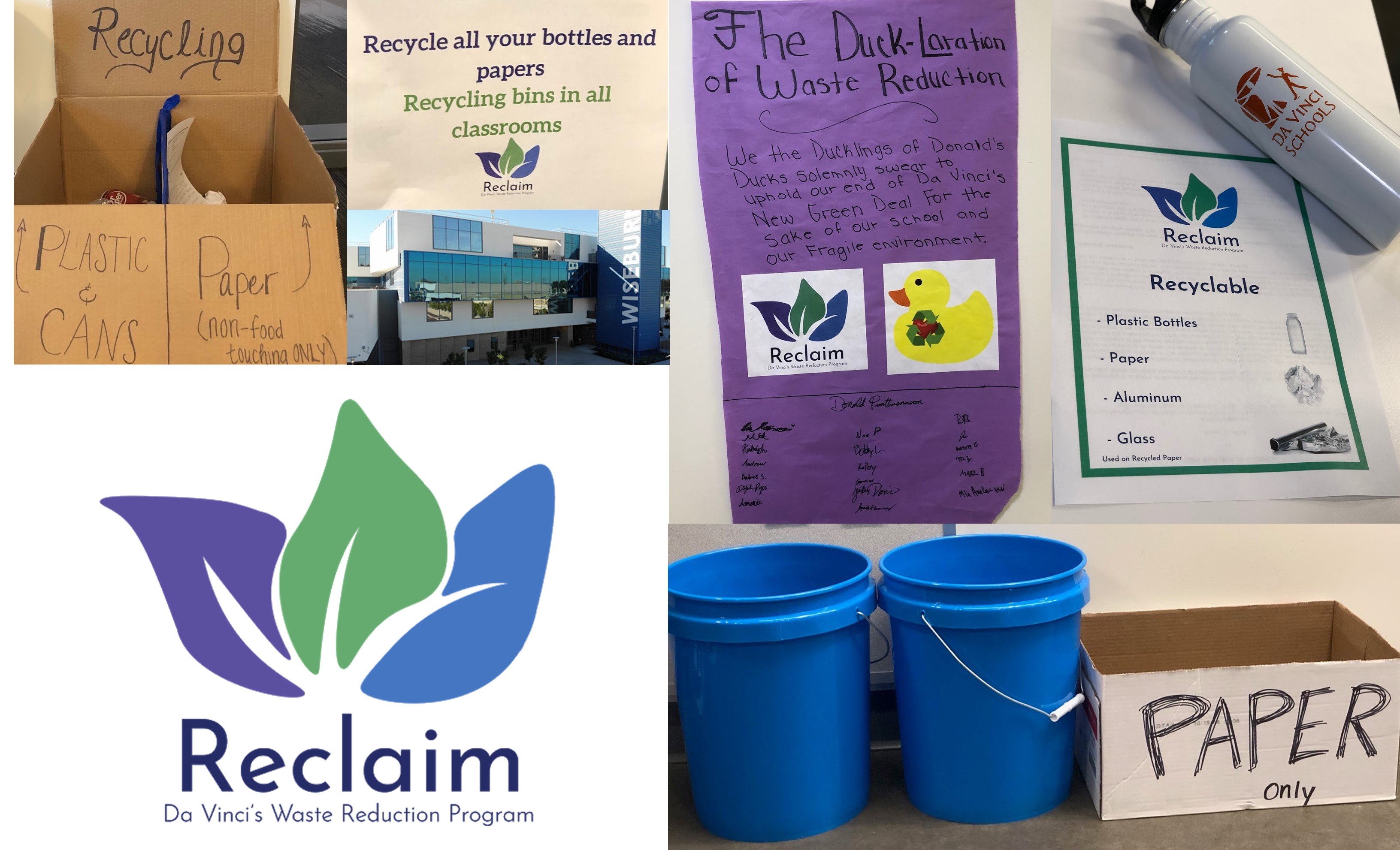 Project Reclaim: Da Vinci's Waste Reduction Program
By Jordan Pruitt ('21) and Ethan Barragán ('20)

The students of the Da Vinci Communications Strategic Communications pathway just launched a new marketing campaign, Reclaim, to help our community reduce waste. Our mission is to show how the initiative will not only help our Da Vinci community be more environmentally conscious and friendly but also bring all three schools in our building together to help waste reduction. The unifying tagline expressed in all of the Reclaim marketing material is "Stay Green. Stay Clean. A New Da Vinci."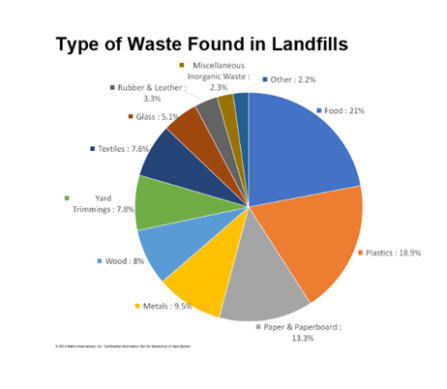 Why is this important? According to The World Counts, we produce 2.12 billion metric tons of waste globally each year. When we discard our waste into landfills, the items found most are actually recyclable materials. 32.2% of the material is plastics and cardboard, which can be recycled.
The U.S alone throws away 30 million tons of plastic each year. There are 335 million tons of plastic produced globally and 91% of plastic is not recycled. The global plastic production is expected to triple by 2050. Twenty-one percent of landfills are composed of compostable materials. The U.S wastes resources like calories from excess food, water, farming fertilizer, cropland, etc. We could generate $218 billion from the food discarded, according to ReFED. Clearly, the US could save money, and our ecosystem, if we properly disposed of recyclables and reduced waste. It is also mandatory: in 2012, the California Assembly passed AB 32, the Mandatory Commercial Recycling bill, to reduce greenhouse gases by diverting commercial solid waste to recycling efforts and expanding opportunities for additional recycling services.
In the past, Da Vinci Schools has not made it a practice to separate trash from recyclable items. Last spring, students measured 20 lbs of recyclable materials collected from one day of trash from DVC's floor alone. We also noticed that we as an organization use lots of paper, and rarely recycle it after we're done with its use. As part of Project Reclaim, we want to start fixing the problem now!
The goals for Project Reclaim are to:
1. Reduce the use of paper that we use by using both sides, and recycling the paper.
2. Recycle more plastic bottles, cardboard, cans, and other recyclable materials.
3. Reduce the waste we produce by using reusable products, only using what we need, and properly discard it.
We've been teaching our fellow classmates, staff, parents, and administrators about the importance of waste reduction. The students in the Strategic Communications pathway have been teaching students and teachers in advisory lessons as part of their community service work for DECA, a student marketing, entrepreneurship, and business organization. We administered a waste reduction relay game during the November 1st DVC Community Dialogue meeting. During the game, the students were informed about what is and what isn't recyclable and why. As part of the final advisory lesson, students created contracts on how they plan to reduce their waste as an advisory and posted the contracts on their teacher's door. We also created print posters on recycled paper across the campus and published advertisements with Project Reclaim messages on social media.
Finally, we have provided opportunities for students to practice new green ideas across campus. For example, in addition to the flyers that highlight the importance of reducing waste, DECA is selling reusable water bottles for $10 during lunch and at DVC's Fall Exhibition. Also, members of Da Vinci DECA hosted a "plastic-free breakfast" for teachers at a staff meeting to model how to hold a potluck with their advisory students with minimal waste from packaging and single-use utensils and plates.
Tyler Mar, a biology teacher at Da Vinci Communications, helped to launch our waste reduction program and has served as an advisor for the campaign. He says, "The ultimate goal of Reclaim is to quantifiably reduce the amount of waste that our entire building of Da Vinci Schools produces on a daily basis. We also want to increase awareness and to educate the public and particularly our school community so they're more mindful of their waste, and hopefully from all of the school activities try to reduce as much waste production as possible."
Kasey Nguyen, a senior DVC student and the Vice President of Career Development for DVC DECA, adds, "If messaging about why it's important and necessary to recycle comes from students, they are more likely to buy-in and retain the information better. The students need to take the lead on waste reduction because it's our future at stake, and progress needs to start with us. It also lets us be a part of and better our school community at Da Vinci."

Jordyn Pruitt and Ethan Barragán are students in the Strategic Communications Pathway at Da Vinci Communications and members of the DVC DECA Chapter. In their free time, the two enjoy playing volleyball in the gym and reading in class.