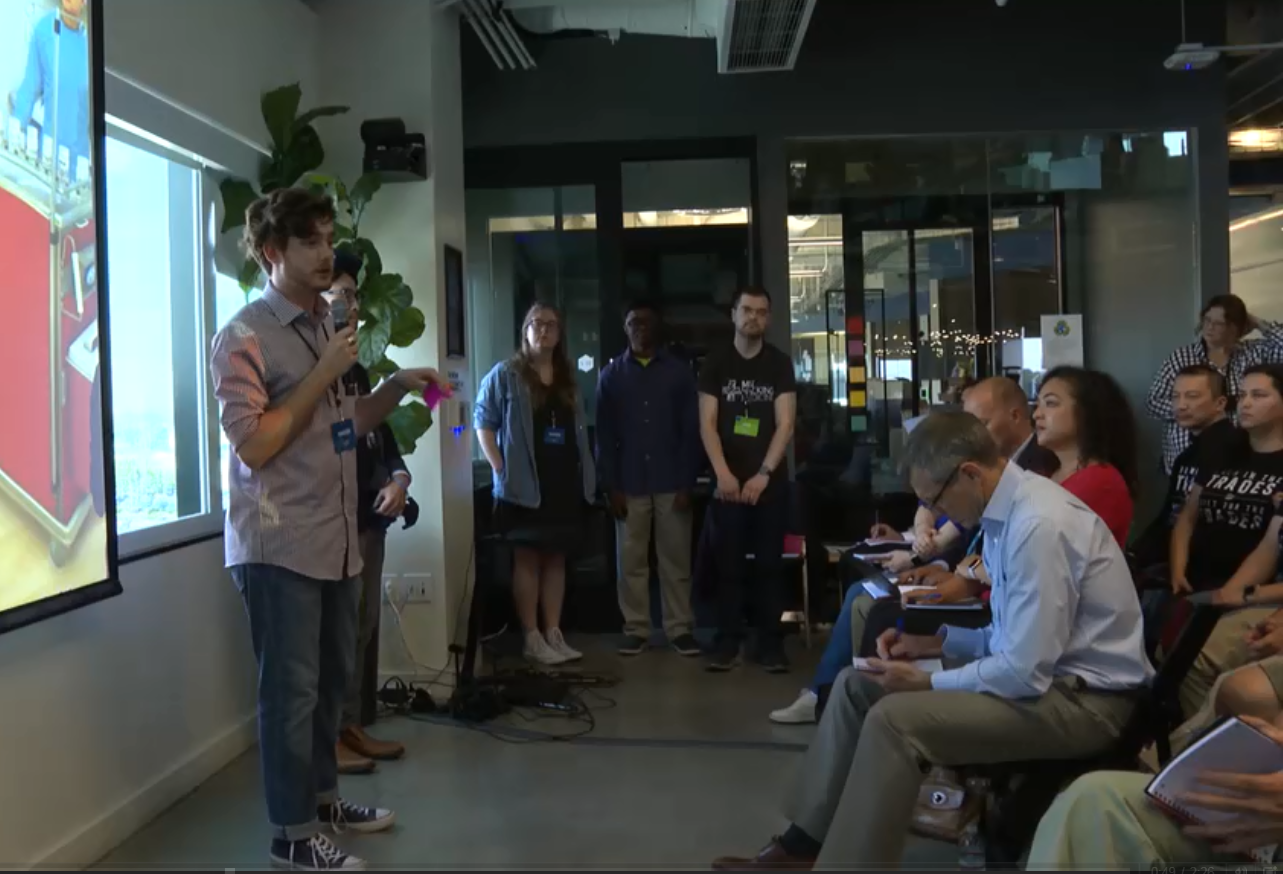 DVX Team Develops Virtual Reality Simulator, Selected as Semi-Finalist in Gamifying Pediatrics Hackathon
A team of Da Vinci Extension (DVX) students was selected as one of 10 semi-finalists in the first-ever Gamifying Pediatrics Hackathon on April 12-14, sponsored by the Innovation Studio at Children's Hospital Los Angeles (CHLA) and BCG Digital Ventures. The Hackathon brought together 185 participants, including doctors, nurses, engineers, students, clinicians and experts in virtual reality (VR), augmented reality (AR), and gaming. The Hackathon's aim was to refine ideas and create rough prototypes focused on transforming pediatric health care through mobile games, virtual reality, augmented reality, and immersive digital experiences.
Over the course of 48 hours, the DVX team — Merit Abshire, Benjamin Hagerty, and Aaron Malone– researched and developed a VR simulator that can be used to train healthcare workers to handle high-stress situations at the hospital. They delivered a 3-minute pitch presentation to a panel of CHLA experts called CODE:BLUE, and was one of 10 teams selected as semi-finalists who will advance to the Incubator phase, where they will receive free mentorship from the hospital's Innovation Studio while developing their prototype over the next six months. The DVX team will present at CHLA Demo Day, a final competition, in October, with the chance to win up to $15,000 in seed money and the opportunity to pilot their product at CHLA. READ MORE >
Congrats to CODE: BLUE team members who are all in the Computer Science pathway at DVX. Merit Abshire is building upon her knowledge and skills learned in the Computer Science pathway at Da Vinci Communications, while Benjamin Hagerty and Aaron Malone gained hands-on engineering experience at Da Vinci Science. College and career-readiness and hands-on real-world learning are signature practices at Da Vinci Schools.