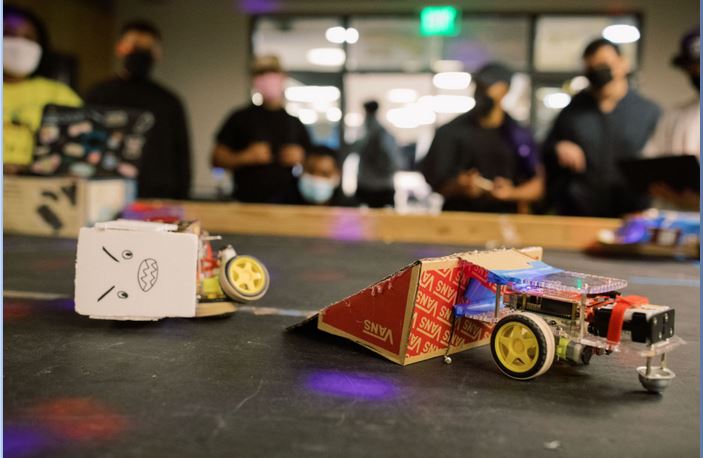 Preparing Learners for Their Future Through Real-World Learning
With the academic year winding down, we want to take a moment to celebrate some of the real-world learning taking place at Da Vinci Schools this school year. The virtual environment has provided a unique opportunity for Da Vinci students and teachers to access industry professionals, connect the virtual classroom to the workplace, and gain new digital skills. Here is a small sampling of some of the incredible real-world learning taking place this year: 
Design Virtual Speaker Series: Da Vinci Design hosted a design-focused virtual speaker series.  Students were able to interact personally with professionals to learn about their careers, day-to-day tasks, and career trajectory. Career speakers included professionals from Gensler, Belkin International, L.A. Dodgers, Karten Design, Corgan Architecture, Odd Research Group, and Otis College of Art & Design.  Nambi Gardner, Senior Associate, SW Regional Leader of Race and Diversity at Gensler, shared that "Growing up poor, I never left home. But as an architect, I've designed spaces throughout the world." She also told students, "it's okay to admit when you don't know something." Video from the event is available to view here.
SpaceX Lunch and Learns: Dozens of students participated in monthly Lunch and Learns with SpaceX employees working in finance, engineering, manufacturing, recruiting, and supply chain. Students learned about different career paths at SpaceX, the importance of taking ownership of their career, the hype around dogecoin, and much more. 
NASA Female Engineers Events: DV Connect TK-8 students recently had the opportunity to hear from two extraordinary female NASA engineers who are making an impact in space. The virtual events, hosted in collaboration with NASA and STEMconnector, were designed to inform students of future STEM careers by connecting them to STEM professionals, real-world challenges, and project-based learning.
BattleBot Competition: Students in the DVC Computer Science pathway recently completed their capstone Senior Project by competing in an in-person BattleBot Competition. Students designed, built, tested and improved their robots by engineering attachments and coding "special moves" with the goal of defeating their opponent in robot-to-robot combat. 
Biomedical Grand Rounds: Students in the Biomedical Engineering pathway at DV Science participated in a Grand Rounds project, acting as internal medicine doctors at "Da Vinci Medical Hospital" who were assigned a (fictional) patient to diagnose. The students presented their patient's story, including the pathway and logic they used to diagnose their patient. The top three groups presented virtually in front of a real panel of doctors. 
Career Exploration: Select juniors and seniors at DV RISE High have been paired with amazing mentors to help students build a network and expand their perceptions of what is possible for them as they seek to learn more about their dream career. Thanks to a grant from the H.G. Clay Foundation, RISE students have been able to connect with mentors in fields ranging from children's law, to real estate, sports statistics, forensic psychology, and beyond. 
Internships & Project Consults: DVX students have been busy doing remote internships and project consults with a variety of companies, including Belkin International, Blue Sun Media, ESMoA, Leadership Hermosa Beach, DV Connect High, and Sprouts of America. Students are continuing to develop their project management, collaboration and communication skills. 
CTE Advisory Boards: As the recipient of several state career technical education (CTE) grants, Da Vinci has established a CTE Advisory Board for each of its career pathways. Comprised of industry and higher education partners, CTE teachers, workforce development leaders, students, parents and community members, the mission of the CTE Advisory Boards is to ensure our curriculum is aligned to workforce needs. This year, our CTE Advisory Boards focused on how to thrive in a virtual world, tools for remote learning and working, and using networks to provide real-world opportunities for students. 
Looking ahead to 2021-22, we are incredibly excited about the full reopening of our schools in August and more fantastic real-world learning opportunities for our students! We wish to extend a HUGE thank you to our many community partners and friends who have contributed hundreds of volunteer hours to our schools, and to Natasha Morrison, Da Vinci's Director of Real World Learning, who makes many of these incredible opportunities available to our students and staff.