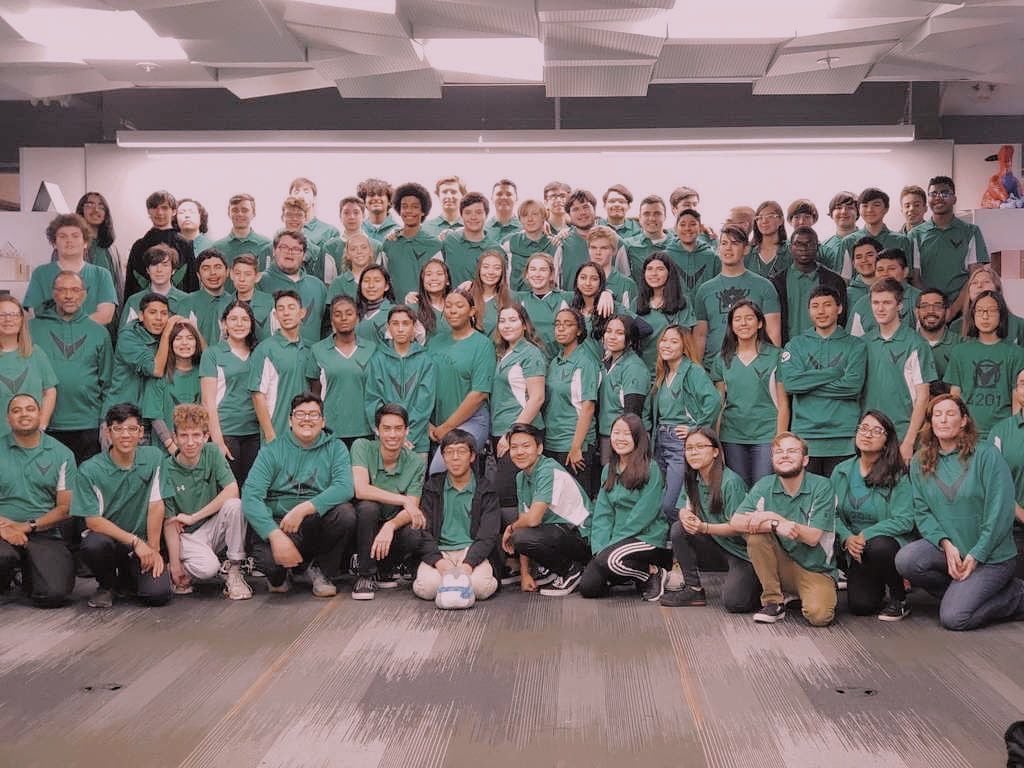 You're Invited: Da Vinci Schools To Host 20th Annual L.A. FIRST Robotics Competition, March 7-8
After a very busy build season, the Da Vinci Schools world champion Robotics Team 4201: The Vitruvian Bots will be competing in the 20th Annual Los Angeles FIRST Robotics Competition — hosted at our very own campus at 201 N. Douglas Street in El Segundo this weekend, March 7-8, 2020. More than 1,100 high school students and their mentors representing 44 teams from Los Angeles, Nevada, Chile, Mexico, France, Brazil and Turkey will face off in intense competition vying for regional awards and a spot at the FIRST World Championship in April in Houston, Texas.
Team 4201 invites Da Vinci and Wiseburn students, families, staff and the local community to attend and catch the excitement of this intense competition, tour the pits to visit with teams and robots, and cheer on their favorite teams. Admission is free. Closed toe shoes are required in the pits.
The Los Angeles Regional will take place on Saturday and Sunday, March 7th and 8th in the gym at Da Vinci Schools. There will be practice matches on Friday, March 6. A detailed Agenda can be found here.
This is the 9th season that Da Vinci Schools has competed in the FIRST Robotics Competition. This year's team, comprised of students from Da Vinci Science, Da Vinci Design and Da Vinci Communications, has 65 members, 20 of whom are young women. Our students spend tens of thousands of hours each year designing, building, programming, wiring, painting, fixing, iterating, and testing to make parts that may only get limited visibility on the field. This year's Team 4201 robot, known as Jango, was revealed on Feb. 21.
Da Vinci's Team 4201 was crowned 2019 world champions as part of a four team alliance. Based on that win, The Vitruvian Bots earned a spot at the 2020 FIRST World Championship to be held April 15-18 at the George R. Brown Convention Center in Houston. The team has twice won the Chairman's Award, the most prestigious award in FIRST that honors the team that best represents a model for other teams to emulate and best embodies the purpose and goals of FIRST.
INFINITE RECHARGE is the FIRST Robotics Competition game for the 2020 season. The season is in partnership with Disney as part of its Star Wars: Force for Change initiative. The game requires each team to design, manufacture, build and program a robot that will perform game-specific tasks. FIRST participants develop real-world skills ranging from engineering and coding to marketing, fundraising, brainstorming and teamwork.
Team 4201: The Vitruvian Bots has more than 15 mentors, including lead mentors Aaron Tostado (DVS engineering teacher) and Fazlul Zubair (Raytheon), who provide critical support and training, donating thousands of hours throughout the season. We are deeply grateful for our many mentors and generous supporters and sponsors including Raytheon, TraPac, SpaceX, The Riordan Foundation, Danger Research, Boeing and others.
Founded in 1989 by inventor Dean Kamen, the mission of FIRST is to inspire young people to be science and technology leaders and innovators and to foster well-rounded life capabilities including self-confidence, communication, and leadership. Da Vinci's Robotics Team 4201 embodies this spirit, partnering with dozens of local teams and inspiring the next generation of STEM leaders.
For more information about parking and local hotels and restaurants, check out the area maps below.