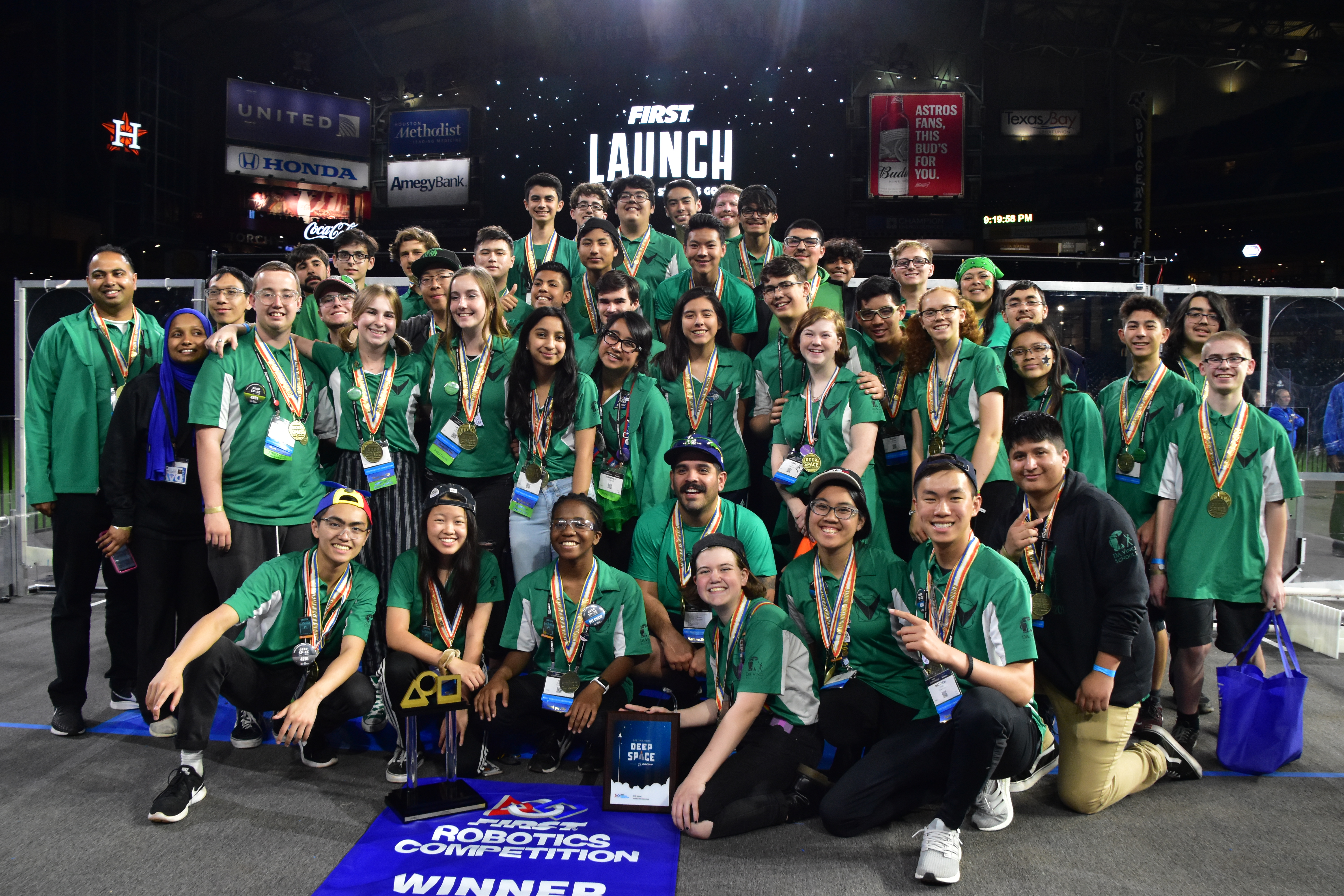 Da Vinci Schools Robotics Team Wins World Championships
We are still buzzing with excitement… the Da Vinci Schools FIRST Robotics Team known as The Vitruvian Bots became world champions on April 20, winning the annual FIRST Robotics World Championships in Houston, as part of a four-team alliance. Students from Da Vinci Science, Da Vinci Design and Da Vinci Communications participate together on one team. >> See related article
The 2019 FIRST Robotics Competition included 3,790 teams and 94,750 + participants. Each year's competition begins in January with an unveiling of the new game. The 2019 game, officially known as Destination: Deep Space, had an outer space theme. The game requires each team to design, manufacture, build and program a robot that will perform game-specific tasks. This is all accomplished in six weeks. Then the robots and their teams travel to regional competitions.
This year, team 4201 competed in both the Orange County and Ventura Regional. They won the Chairman's Award, the most prestigious award in FIRST, at the Ventura Regional, thus securing their spot in Houston at Champs. The Chairman's Award honors the team that best represents a model for other teams to emulate and best embodies the purpose and goals of FIRST. This is the 8th season that Da Vinci Schools has competed in the FIRST Robotics Competition and the second time the team has won the prestigious Chairman's Award. >> Team 4201 Chairman's Video 2019
"I am thankful for all the sponsors, mentors and parents who allow our team to compete year after year,' said Coach Aaron Tostado. "Our team spends endless hours designing and fabricating a robot in the hope of competing well. This year we were honored with a Chairman's win that enabled us to compete at the Houston Championships. We built the best robot we knew how and are proud to have been selected to be a part of the winning alliance. The Vitruvian Bots had an incredible year and we are thankful for all of the support. We are excited to continue to #MakeItLoud in the 2020 game, The Force for Change".
As part of an all-California team alliance, Team 4201 became champions after three days of intense competition. The victory was shared with alliance captain, Team 973 The Greybots from Atascadero, CA, Team 1323 MadTown Robotics from Madera, CA and Team 5026 The Iron Panthers of Burlingame, CA. After two days of qualifying matches in six divisions, Team 973 chose The Vitruvian Bots to join their alliance in the Newton Division, which they won. This moved them on to the Einstein Division where the alliance became World Champions after winning the tie-breaking match against the Turing Division alliance.
The team's robot named "Carbon" — utilizes motors, sensors and vision processing to complete tasks, Tostado said.
"Carbon" features a six-wheel drive train, an elevator mechanism, two intakes for different gaming objects and is powered by a 12V battery, similar to the ones used in motorcycles, according to Vitruvian Bots mentor Ted Dang from Booz Allen Hamilton.
Lead Mentor, Fazlul Zubair said, "This was truly a whole team effort. I am so proud of the accomplishments of all of our team members, alumni, mentors, faculty, families, supporters, and sponsors this season. Being part of the World Championship Alliance would not be possible without the work of our students over the past eight years to make a measurable impact in our community, winning us the prestigious Chairman's Award two years in a row. Our students spend tens of thousands of hours each year designing, building, programming, wiring, painting, fixing, iterating, and testing to make parts that may only get limited visibility on the field."
Volunteer mentors provide critical support and training, donating thousands of hours throughout the season. 2019 mentors include: Fazlul Zubair (Raytheon), Aaron Tostado (Da Vinci Science), Ted Dang (Booz Allen Hamilton), David Stuart (Boeing), Jerry LeBlanc (Sony Entertainment), Jonathan Dao (Raytheon), Andrew Truxel (Raytheon), Vince Ornealas (SpaceX), Wesley Soo-Hoo (Motivo Engineering), Kim Carrillo (Alumni Mentor), and Jacob Hernandez (Alumni Mentor).
This year's sponsors include Raytheon, Da Vinci Schools, Wiseburn Unified School District, Northrop Grumman, The Boeing Company, SpaceX, Belkin International, Elite Technologies, Booz Allen Hamilton, Embrace Apparel, Dropbox, and Danger Research.
FIRST Robotics was founded in 1989 in Manchester, NH by Dean Kamen, inventor of the Segway. FIRST is a not-for-profit public charity designed to inspire young people's interest and participation in science and technology, and to motivate them to pursue education and career opportunities in STEM fields. FIRST participants include over 615,000 students in over 100 countries.