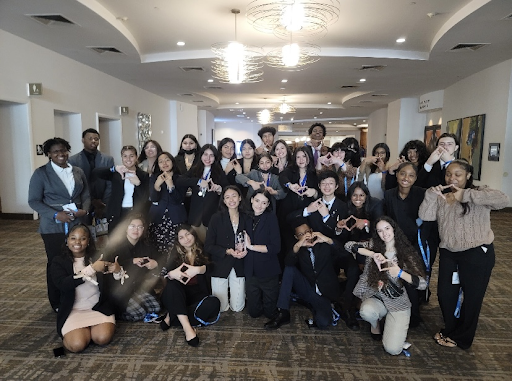 DVC Students Make DECA History at California Career Development Conference
By JasLynn Skinner, DVC DECA Co-Vice President of Marketing
Eight members of Da Vinci Communications' DECA program earned awards at the 2023 California Career Development Conference in Anaheim this month in two days of written and role-playing competition, with 2,400 participants from 47 chapters across the state. Six of the 29 DVC students who participated qualified to attend DECA's International Career Development Conference in Orlando in April as competitors or to participate in the THRIVE Leadership Academy. This is the first time DVC students have qualified for the international competition. 
DECA is a student organization whose mission is to prepare emerging leaders and entrepreneurs for careers in business, marketing, entrepreneurship, and hospitality. 
At the state competition known as SCDC, students have enriching experiences in workshops and in competitive events while also networking and building connections with students across the state. DVC competed in several different competitive events, including role-play in food marketing, marketing communications, retail merchandising, and sports and entertainment marketing. In these events, the students have 10 minutes to prepare a response to a marketing problem. DVC DECA students also competed in two written project events, the Integrated Marketing Campaign and the Innovation Plan. In the fall, the students wrote 10-page papers for these events in their Marketing Pathway class; at the conference, they presented them to a judge for 15 minutes.
Here are the students who made DVC DECA history:
Hilda Donis and Eryn Allen—  3rd place in the Innovation Plan event and ICDC qualifiers
Daniela Torres — 5th place overall and ICDC qualifier in the Marketing Communications Series event, 3rd place for role play 1 
Alani Flores and Karina Ruiz — 8th place overall for the Integrated Marketing Campaign – Services event, 1st place presentation; attending THRIVE Academy at ICDC
Samantha Guevara — 9th place overall in the Retail Marketing Series event, 1st place in role play 1; attending THRIVE Academy at ICDC
Karina Ruiz — Finalist, Food Marketing Series event role play 
Dallas Estell — Finalist, Marketing Communications Series event role play
Jalen Coleman — 3rd place in Sports and Entertainment Marketing Series event role play 1 
Alani Flores — Finalist, Sports and Entertainment Marketing Series event role play 
"It felt surreal knowing I was going to ICDC, and I was very surprised that I qualified," said senior Daniela Torres. "It felt crazy that I had it in my hands and that it was actually mine."
Junior Samantha Guevara added, "The DECA ribbon around my neck felt like an honor knowing that I was able to represent my chapter and my loved ones back at home."
"I think being confident is what helped me do well and stand out," said junior Karina Ruiz. "Although I was really nervous, I made sure to try and not let it show. My team member and I were prepared, and knew how to bounce off of each other well and finish each other's sentences." 
During the opening session, DVC DECA's chapter presidents Hilda Donis, and Daniela Torres introduced the chapter to all attendees. In addition, the chapter's VP of Career Development, Alvin Liu, was awarded Chapter Leader of the Year. DVC DECA was also recognized for completing promotional and community service campaigns in the fall and earned the THRIVE Level Award for the 2022-23 school year.
"While holding office, I wanted to provide the experience previous officers had given to me prior to my year of service," said Alvin Liu, a DVC senior. "I'm proud of braving the challenges and for the support our officer team provided to the chapter throughout the year, and the investments each student made."
This year's lineup of Marketing Pathway students truly made an impact on our chapter's history, and our delegation is proud to represent DVC and California DECA at ICDC for the first time next month.