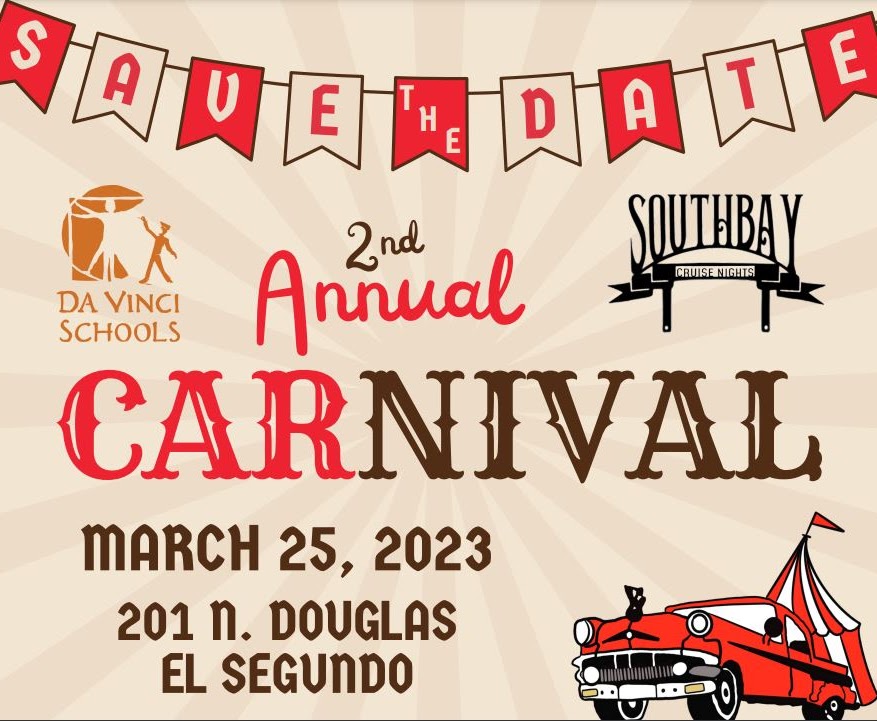 You're Invited: Da Vinci Schools Second Annual CARnival – March 25th
CARnival
Saturday, March 25  | 10am-5pm
201 N. Douglas St.
El Segundo, CA 90245
Get ready for a thrilling event at Da Vinci Schools! The much-anticipated CARnival is right around the corner and promises to be an exciting day for all car enthusiasts and carnival-goers alike.
On Saturday, March 25th, from 10am to 5pm, Da Vinci Schools will transform into a car show and carnival, combining the best of both worlds. This unique event is set to feature a variety of activities, including vendors, live entertainment, food, and even a silent auction!
CARnival is not just a fun-filled day; it is also a crucial fundraising opportunity for the senior events and activities across all Da Vinci Schools. It is an excellent chance to support our students and contribute to their memorable senior year while having a blast with your loved ones.
One of the exciting things about CARnival is the opportunity to build industry connections and promote local small businesses. This event is an excellent platform for local companies to showcase their products and services, and visitors can learn more about the innovative ideas and technologies that drive the automotive industry.
The CARnival website offers all the information you need to plan your visit, including directions, parking, and a detailed schedule of events. Please note that on-site parking is limited. You can purchase an on-site parking pass here, or park for free at a nearby lot. There are also many volunteer opportunities available, so don't hesitate to sign up and make a difference in our community. Feel free to bring your family and friends and join us for an unforgettable experience. See you there!
Questions?
Contact Kat Ramos: kramos@davincischools.org