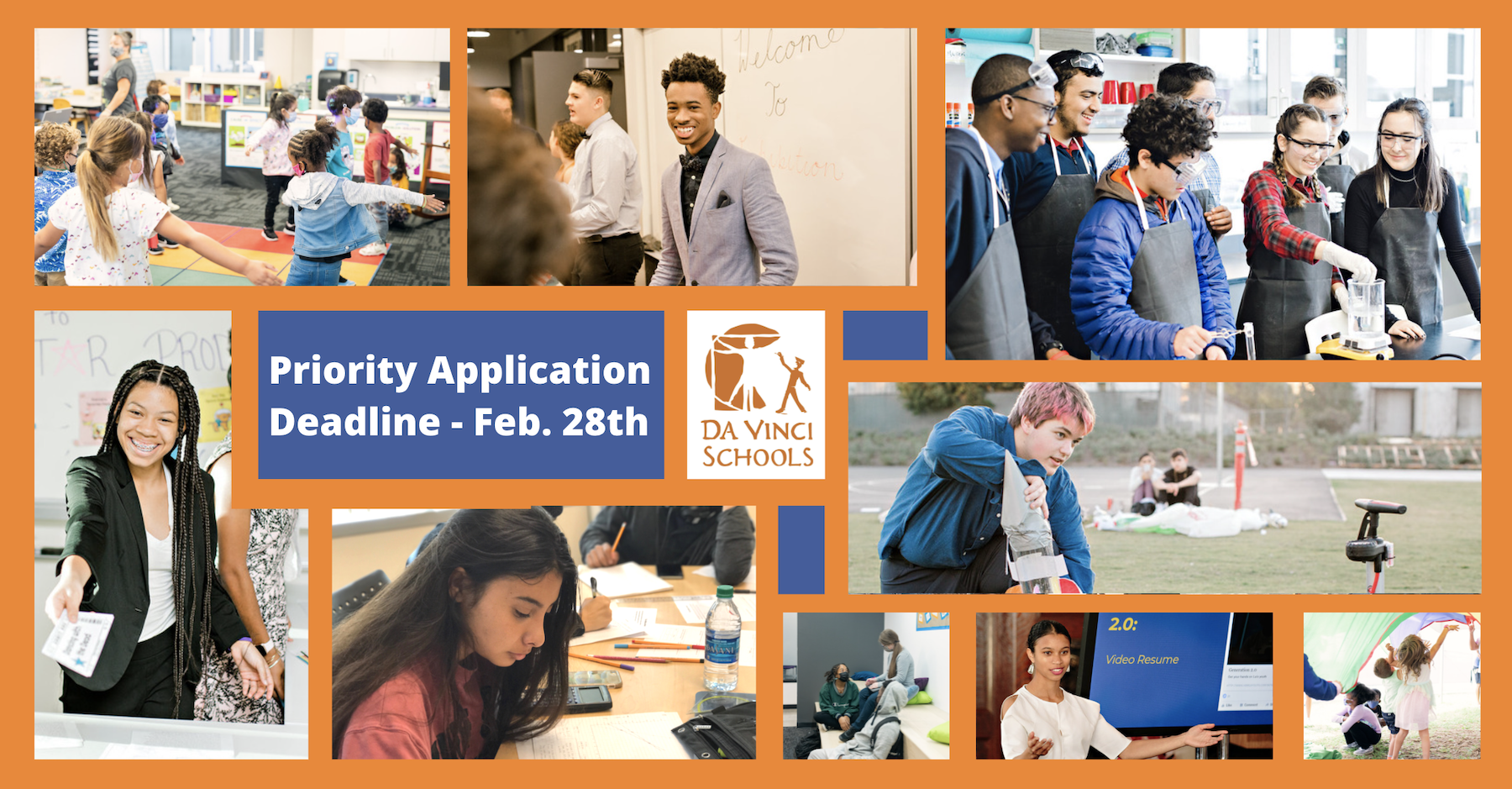 Priority Application Deadline for New TK-12th Grade Students is Feb. 28th
Do you know a friend or family member who is looking for a real-world education in a small and nurturing school community? If yes, then keep reading!
The Priority Application Deadline for new Da Vinci students entering grades TK-12 in the 2023-24 school year is February 28, 2023.

There are lots of ways for prospective students and families to get to know our schools, including in-person tours, recorded info sessions and student chats, exhibition nights, and more. Please visit our Enrollment Overview webpage for the most up-to-date information.
Ready to apply now? New students/families may apply online for the 2023-24 school year at: https://davincischools.schoolmint.net/
DA VINCI SCHOOLS HELPFUL LINKS
Da Vinci Schools website
Enrollment Overview
Enrollment Process
Enrollment FAQ
Wiseburn Residents
Da Vinci Schools Impact Report
Apply Now
ENROLLMENT CONTACTS
High School Enrollment
Laura Nilsson
(310) 331-8097
enrollment@davincischools.org
TK-8 Enrollment
Ebony Bobadilla
(310) 725-5800, x5104
ebobadilla@davincischools.org
RISE Enrollment
Christian Navarro
(424) 241-2197
cnavarro@davincischools.org
We look forward to answering any questions you may have.
Don't forget — the Priority Application Deadline for new students is this coming Tuesday, February 28th at 11:59PM.
Current Da Vinci students: Please do NOT fill out an application for the 2023-24 school year. Instead, you will be asked to complete an Intent to Return in SchoolMint to secure your spot for next year.