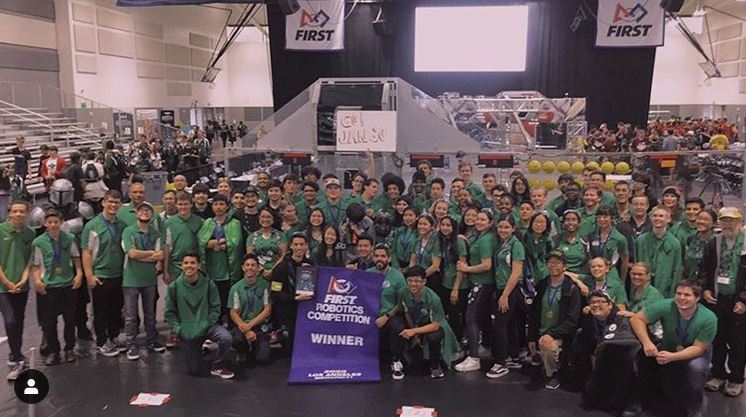 Da Vinci's Robotics Team 4201 Wins First Place at L.A. Regional
A HUGE congratulations to Da Vinci's Team 4201: The Vitruvian Bots, a member of the winning alliance at the 20th Annual Los Angeles FIRST Robotics Competition!! The Vitruvian Bots secured its first Regional Winner banner as the #1 ranked robot and captain of the #1 Alliance. The L.A. Regional competition was held over the weekend (March 7-8, 2020) right here in our beautiful gym.
Team 4201 was one of 44 high school teams from Los Angeles, Nevada, Chile, Mexico, France, Brazil and Turkey that faced off in intense competition putting their engineering and teamwork skills to the test.
Da Vinci's Team 4201: The Vitruvian Bots was undefeated at the L.A. regional with a record of 17-0!!! Way to go, Team 4201!!! And congratulations to our alliance partners — Team 987 from Las Vegas and Team 6000 from Los Angeles.
Da Vinci's robot "Jango" was the most consistent climber at the L.A. regional competition and its ability to traverse across the climbing bar was a crowd favorite! Team 4201 received the Autonomous Award for its very consistent six ball autonomous sequence that helped the team secure the #1 rank after qualification matches. Team 4201 also was complimented by many judges and attendees on their outreach, mentorship, community engagement and robot design.
All matches have been uploaded to YouTube. Check 'em out here.
If you missed the L.A. Regional, you can see Jango in person at Wiseburn's annual Rock Around The Block event on March 21 at Dana Middle School or at the Orange County Regional on April 2-4 at the O.C. Fairgrounds. (Note: These events were canceled due to the COVID-19 pandemic.)
This is the 9th season that Da Vinci has competed in the FIRST Robotics Competition. Team 4201 was crowned 2019 World Champions as part of a four team alliance. Based on that win and the 2020 L.A. Regional win, The Vitruvian Bots have earned a spot at the 2020 FIRST World Championship to be held April 15-18 at the George R. Brown Convention Center in Houston, TX. (Note: The World Championship was canceled due to the COVID-19 pandemic.)
Team 4201: The Vitruvian Bots this year includes 65 students (20 are young women), partnering with 18 mentors who provide critical support and training, donating thousands of hours of volunteer support each season. Mentors include professional engineers from Raytheon, SpaceX, Boeing, Sony, the U.S. Air Force, and others. Da Vinci 2020 sponsors include: Raytheon, TraPac, SpaceX, The Riordan Foundation, Danger Research, and Boeing.
INFINITE RECHARGE is the FIRST Robotics Competition game for the 2020 season. The season is in partnership with Disney as part of its Star Wars: Force for Change initiative. FIRST participants develop real-world skills ranging from engineering and coding to marketing, fundraising, brainstorming and teamwork.
Team 4201: You are true STEM leaders and innovators! We are deeply grateful to all of the mentors, sponsors, students, families and staff who helped us host the L.A. regional. We couldn't have done it without your incredible support!!