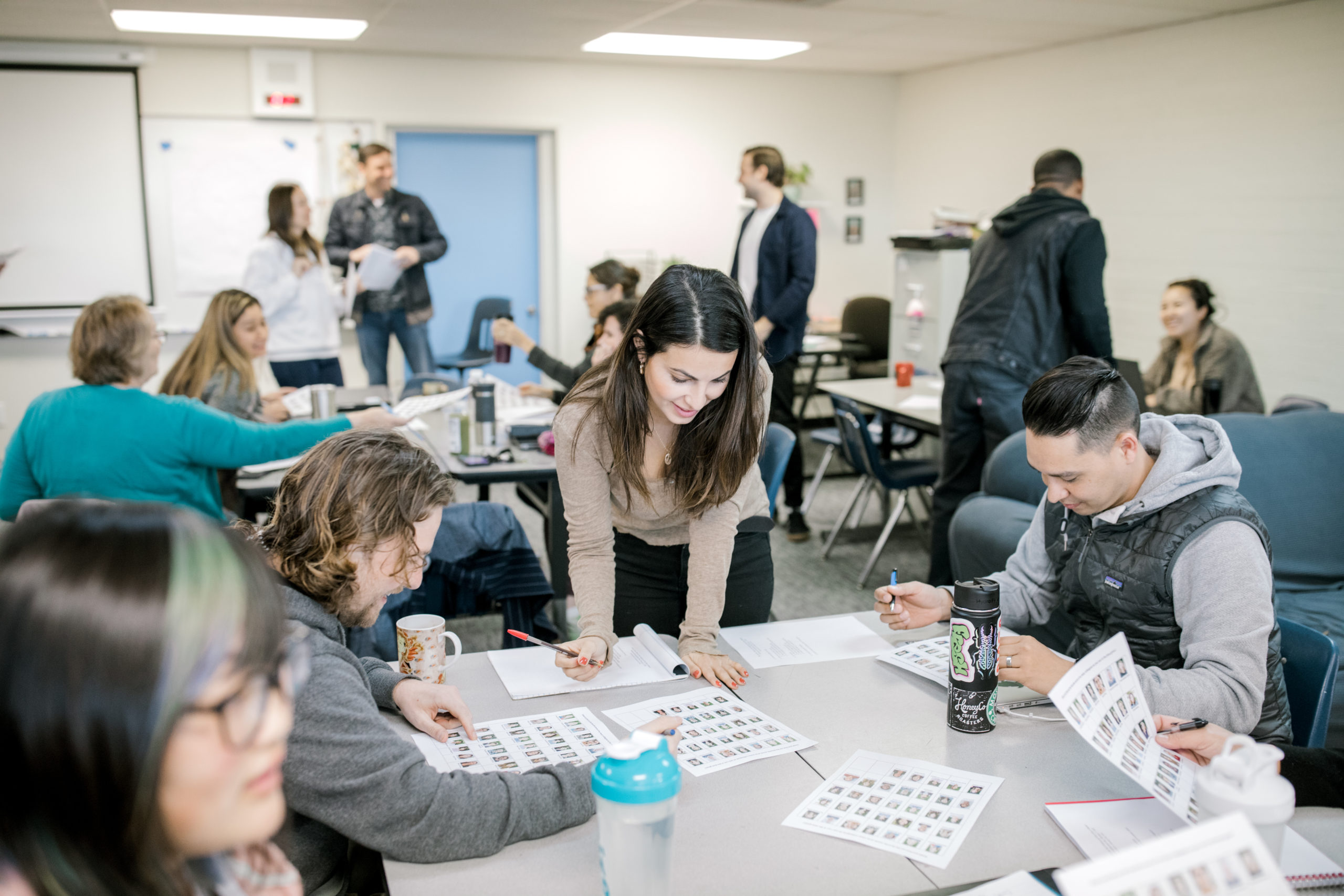 Aligning Our Curriculum from K-Career
There were no students on campus on Friday, but there was plenty of enthusiasm, laughter, collaboration, learning and reflection taking place. Teachers and school leaders from Da Vinci Connect and Da Vinci Extension (DVX) came together for the first of two professional development days focused on building school culture, signature practices, and academic skills and knowledge across Da Vinci's K-16 continuum.
The Da Vinci Connect + Da Vinci Extension professional development day was unique in that it focused on connecting the K-12, higher education and career pipeline for students ages 5-21. After a fun activity designed to get to know each other, Da Vinci Connect Principal Michelle Rainey and Da Vinci Extension Program Leader Marc Pioch shared articles and research about the college completion crisis in America in which only about a third of students who enroll in college have earned a bachelor's degree in six years. Many leave college with debt and no degree (Source: Organization for Economic Cooperation and Development).
The day also included activities around aligning our school cultures, signature programs and practices, and developing writing proficiency from kindergarten through career.
A key tenet of Da Vinci Schools is to develop school models that are responsive to our rapidly changing world and help close the opportunity gap so all students have equal access to succeed in college, career and life. With a focus on interdisciplinary learning and solving real-world problems, Da Vinci seeks to break down the silos between K-12, college and career.
Da Vinci Connect serves 430 K-8 students in a homeschool and on-campus hybrid program designed to appeal to families who are interested in co-educating their children in a flexible learning environment. Da Vinci Extension serves 93 students in grades 13-16. DVX students can earn college credits, an AA degree or bachelor's degree for free through partnerships with UCLA Extension, El Camino College and Southern New Hampshire University. A pilot program of 12 Da Vinci Connect high school students provides another unique model in which students can earn a high school diploma and a bachelor's degree simultaneously for free via a competency-based and problem-based, real world learning curriculum that emphasizes degree attainment, workforce skills, financial literacy, academic, social-emotional and college supports. Da Vinci Communications, Da Vinci Design, Da Vinci Science, and Da Vinci RISE high schools provide additional models to meet the diverse needs of our students and families.
At Da Vinci Schools, adult learning never ends. Each year, Da Vinci teachers have approximately 19 days of professional development with new teachers receiving about 23 days. More than 3,000 educators from six continents have visited Da Vinci Schools since our inception to study our best practices through our professional development center known as Da Vinci Institute.
On March 6, Da Vinci Connect and Da Vinci Extension teachers and school leaders will come together again to collaborate with Da Vinci professional partners who will share what success looks like in the workforce. Together, we are preparing a new generation to lead, innovate and thrive in the modern world.