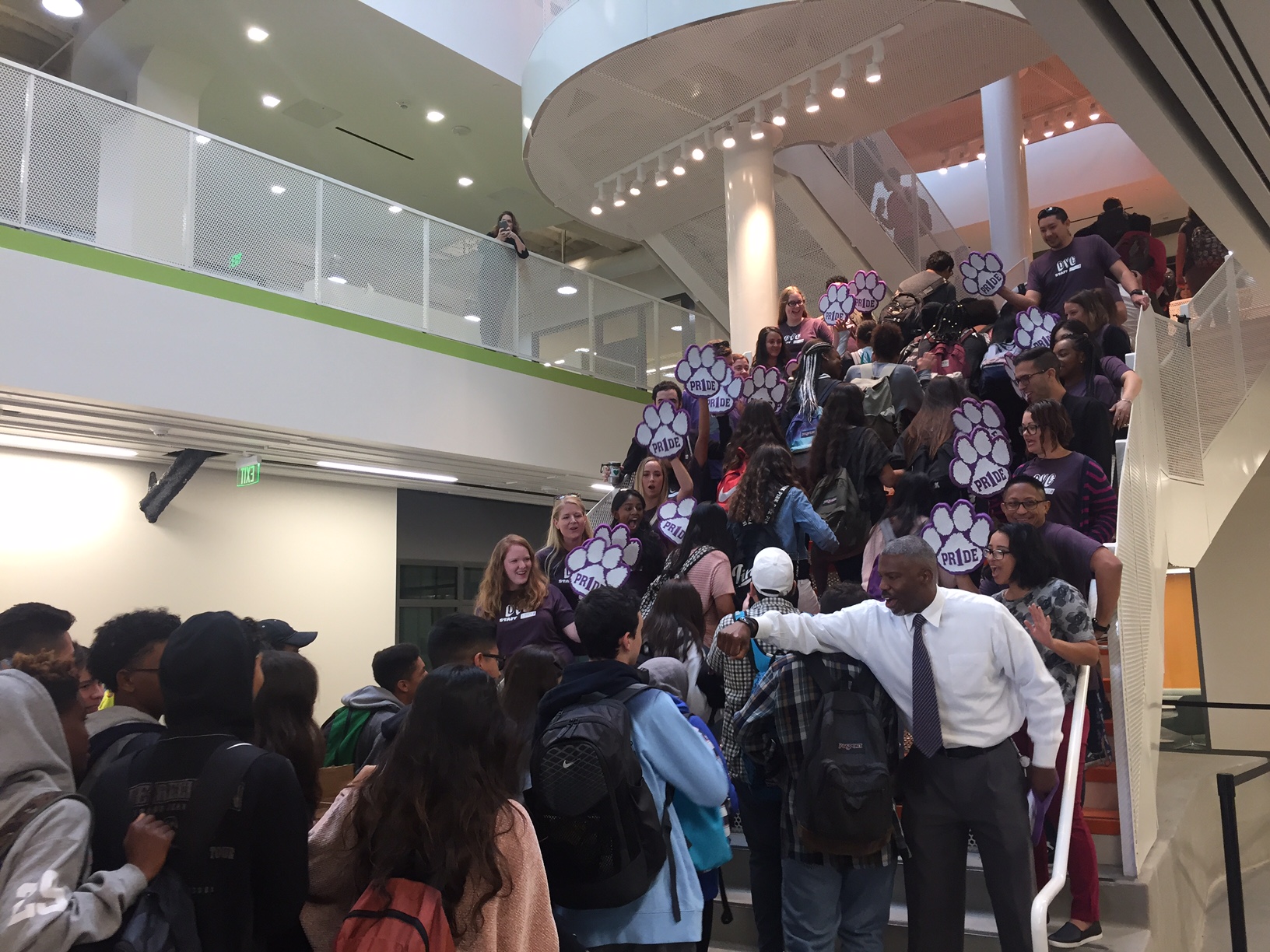 New High School Opening Brings Smiles, Excitement
Da Vinci Communications, Da Vinci Design, and Da Vinci Science kicked off their first day of classes today at the new Wiseburn High School building. There's been excitement and cheering all day long! Our DVC Strategic Communications students took over our official Twitter account (@dvschools). Here's a recap of their reactions to #dvday1:
"We can't believe it! It's so beautiful!
"Thank you Gensler Design for these beautiful stairs. It has such an awesome design and represents our school perfectly."
"No one knows where to go. But every transition is a new adventure!!!"
"The deck is DOPE y'all!!!"
"I love my new Chevron chemistry lab with all of its professional new chem equipment."
"Oh my gosh this view is so beautiful."
"OMG WE MADE IT!!!"
It took 7 years of planning, designing and construction to make it to this historic day. Each school occupies one floor. Da Vinci Science is housed on the second floor, Da Vinci Communications on the third floor, and Da Vinci Design on top. Da Vinci and Wiseburn administrative offices occupy the first floor.
Highlights include 24 classrooms on each floor surrounded by hubs and common spaces, outdoor patios, a huge center atrium, a theater, recording studios, and a multipurpose community room. Lead architect David Herjeczki of Gensler describes the school's design as "hyper-adaptable." There is natural light and transparency throughout the building with tall windows, some of which are floor-to-ceiling, offering students sweeping views of the creative and technical workplaces they are being prepared for.
The 210,000 square foot, four-story main building at 201 N. Douglas Street in El Segundo, CA, will serve up to 1,600 students in three high schools, incorporating the latest technology and hands-on, interdisciplinary environments for collaborative, project-based learning aligned to workforce needs. The campus also will serve as a community and recreational hub with an aquatic center, soccer field, theater, and multipurpose room for school and community use. Phase 2 (the athletic field, gymnasium and pool) is expected to be completed by Summer 2018.
In an unprecedented district-charter partnership, this project has succeeded through a creative alliance of local Wiseburn bond funds ($87M); a charter facilities grant match ($52.7M); generous corporate and foundation giving; and strong local support from the Wiseburn community and the City of El Segundo.
An official ribbon cutting and grand opening celebration will take place on December 9th from 10:00 AM to 1:00 PM. Join us!