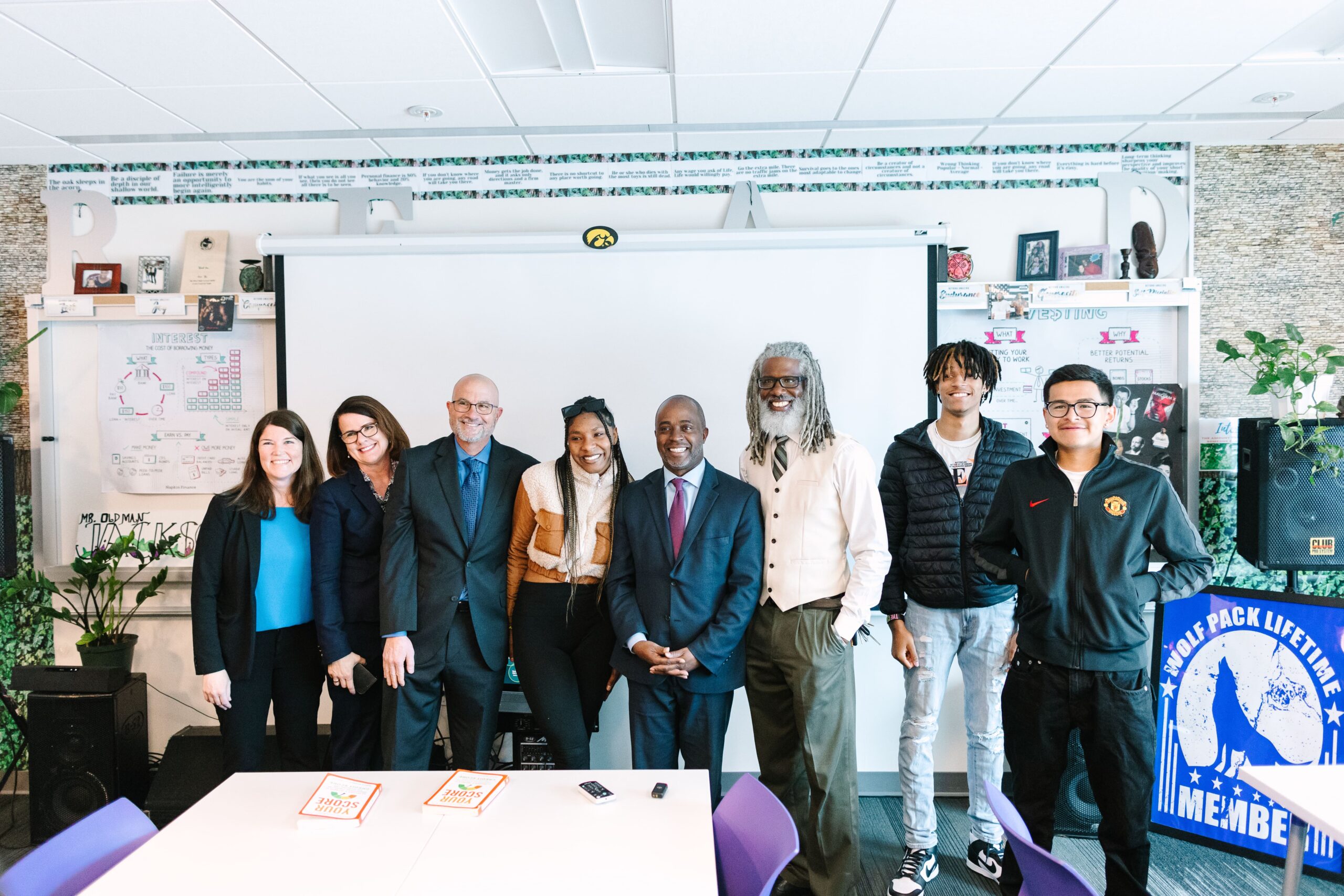 State Superintendent of Public Instruction Tony Thurmond Visits Da Vinci Schools
April 24, 2023 -- Today, Da Vinci Schools had the honor and privilege to host State Superintendent of Public Instruction Tony Thurmond as he recognized Da Vinci Schools as a leader in bringing personal finance curriculum to students.
Supt. Thurmond visited 12th grade teacher Christopher Jackson's College & Career Readiness and Financial Literacy class at Da Vinci Communications and spoke directly with students as part of his effort to tour model schools and get input from students about making personal finance a high school graduation requirement. Da Vinci students take financial literacy as part of their core graduation requirements – fewer than 1% of students in California attend a school that requires them to complete one semester of financial education.
Only 27 percent of California high school students have access to an elective course in personal finance compared with 71% nationwide. Just 18 states nationwide have a personal finance graduation requirement. According to a Public Policy Polling survey conducted this month, 85 percent of Californians think all high school students should be guaranteed to take a basic course in personal finance, and 88 percent believe it is very important for high school students to at least be taught this subject.
"We are so inspired by Superintendent Thurmond's leadership on expanding financial education to all California students – and also so moved by his personal story. He is authentic, caring and charismatic, and is a tremendous inspiration to our students," said Dr. Matthew Wunder, Da Vinci's CEO and Superintendent.
Research shows that students who have access to high-quality financial education have better financial outcomes as adults that result in less debt and a higher quality of life. Supt. Thurmond is partnering with CA-based nonprofit Next Gen Personal Finance (NGPF) to get a ballot measure passed that would require schools to teach personal finance. DVC financial literacy teacher Christopher Jackson is one of the first 500 NGPF Distinguished Educators who has completed six certification courses. This sets him apart from the 78,000 educators in the NGPF network and in the top 1%! Chris was selected as one of 85 CA  educators selected to attend NGPF's Closing the Financial Education Gap in March where he met Supt. Thurmond.  > Related article: Teacher Talk with Christopher Jackson
Supt. Thurmond and other advocates are hoping to leverage the more than $3.6 billion allocated to schools in 2022 to support financial literacy and help schools begin laying the foundation for providing personal finance classes in schools while efforts to get a ballot measure passed are underway. Ensuring that all young Californians have exposure to financial literacy is a vital step in closing inequality gaps and providing the skills and resources to improve lives.
Supt. Thurmond was joined today by Steve Zimmer, Deputy Superintendent of Public Instruction; Tim Ranzetta, Founder of Next Gen Personal Finance; Dr. Matthew Wunder, CEO and Superintendent of Da Vinci Schools; Dr. Jennifer Hawn, Chief Operating Officer and Deputy Superintendent of Da Vinci Schools; Erin D'Souza, Principal of Da Vinci Communications; Andrew Daramola, Assistant Principal, Da Vinci Communications; Christopher Jackson, College & Career Readiness and Financial Literacy teacher at Da Vinci Communications; and Dr. Blake Silvers, Superintendent of the Wiseburn Unified School District.