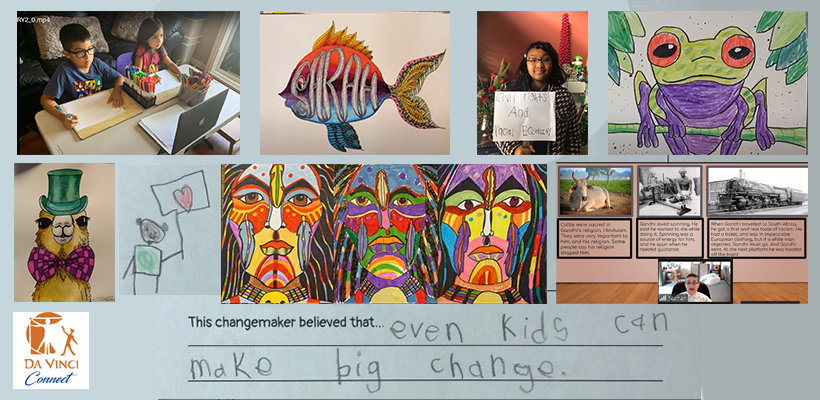 Honoring Changemakers and Each Other During Exhibition Week
Last week, Da Vinci Connect's TK-8th grade students participated in virtual Exhibition events! During these unusual times, it was important for our community to honor and make space for the learning and projects with which students have engaged throughout this semester. Our schoolwide project theme of "changemakers" led students through the exploration of changemakers and activists throughout history, the characteristics of a changemaker, how the brain works in relation to emotions and regulation, as well as how students see themselves as changemakers in their own communities.
In visiting various Exhibition spaces, audience members saw a second-grade student confidently reciting a poem she wrote from the perspective of Harvey Milk, a kindergarten student embodying the work of Jane Goodall announcing that he is a changemaker by caring for animals, a 4th grade student sharing how his deep exploration of Cesar Chavez was honoring his own Latinx heritage, and an 8th grade student reciting the monologue he wrote through the perspective of Dolores Huerta. Audience members also witnessed the facilitation of joy and celebration that teachers, peers, and families shared with each presenter.
That's not all our students shared during Exhibition Week! Check out this virtual art gallery created by our art teacher, Mr. Mason, highlighting some of the beautiful work our students have created during the synchronous and asynchronous art lessons throughout the semester. >> View gallery
Exhibitions are an important component of project-based learning and assessment, and provide a comprehensive view of each student's knowledge and mastery of the curriculum.