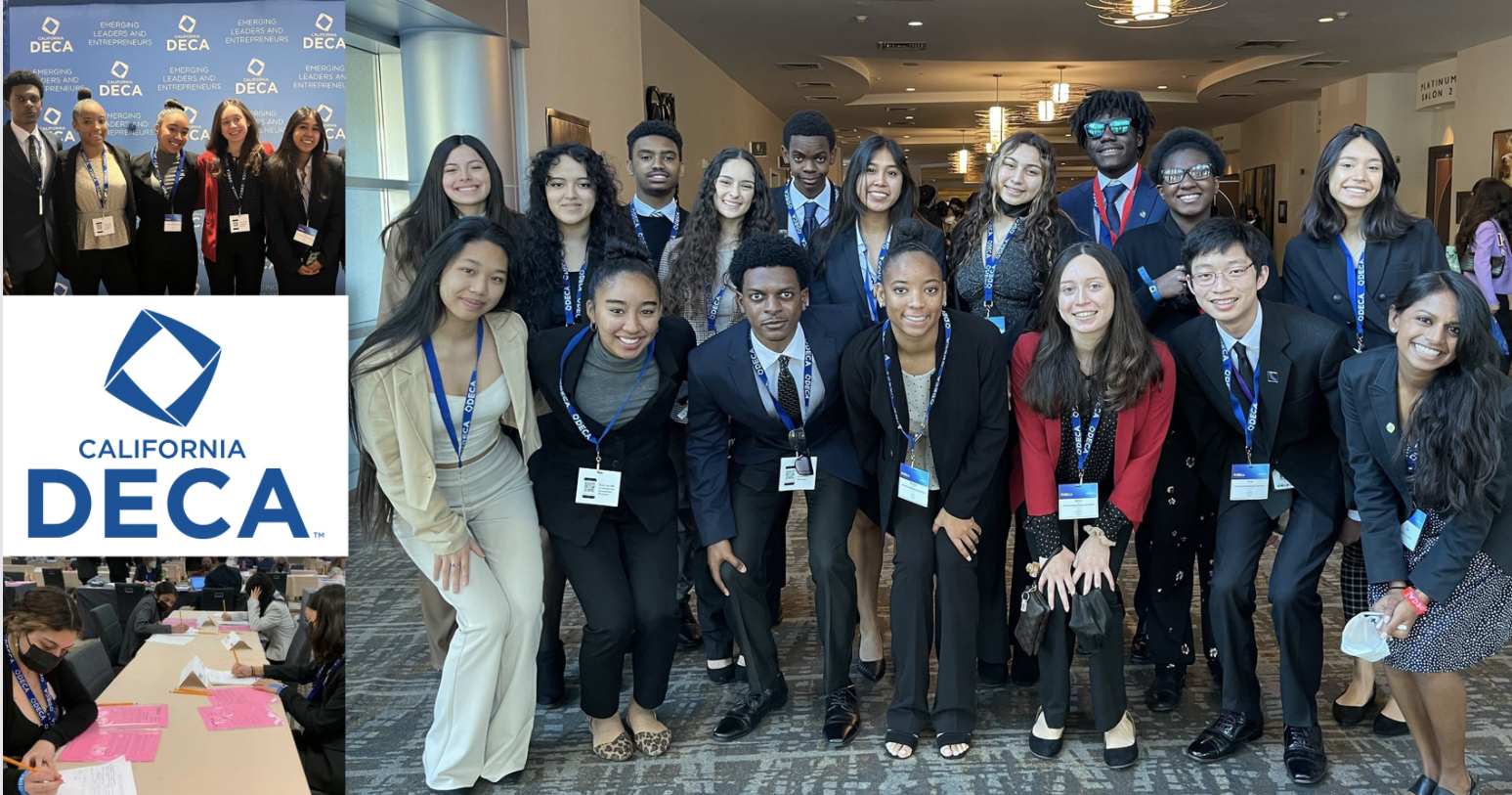 DVC DECA Competes in their First In-Person State Career Development Conference Since 2020
By Mahina Matias, DVC Class of 2022 and DVC DECA Vice President of Marketing
Six DECA members from Da Vinci Communications High School were recognized at the 2022 California DECA State Career Development Conference in Anaheim. DECA is a career-oriented student association that offers emerging leaders and aspiring entrepreneurs opportunities to gain experience in marketing, finance, hospitality, and management in high schools and colleges all over the world. At DVC, DECA is integrated into the two-year Marketing Pathway as part of the school's career pathways program.
Sixteen members of DVC's chapter competed at the State Career Development Conference on February 24-27, 2022, which is the largest California DECA event of the year. DECA members across California gathered for competitions, workshops, state officer campaigns, and networking opportunities. To be successful in competition, students needed to demonstrate mastery of core marketing principles and concepts on a timed exam, write and present cohesive 10-page marketing plans and business innovation concept papers for judging by industry professionals, and develop thoughtful presentations responding to real-life marketing problems.
The DVC DECA student officer team took an active leadership role to prepare for the conference while their advisor and Marketing Pathway teacher, Deepti Reim, was on maternity leave during the fall semester. They led a seminar class where they taught and practiced role play scenarios, and reviewed content on the marketing cluster exam.
The DVC chapter had six students recognized at the Grand Awards Ceremony on February 27th:
Hilda Donis (11) – 3rd place in the Food Marketing Series, Role Play 1
Jahari Crawford (12) – 2nd place in the Sports and Entertainment Marketing Series, Role Play 1
Makayla Wilson (12) and Kaylee Yonamine (12) – Finalists in the Sports and Entertainment Marketing Team Decision-Making Event
Jalen Coleman (11) and Alvin Liu (11) – Finalists for the Integrated Marketing Event-Services (Presentation)
Chapter Co-President Makayla Wilson was recognized onstage for being a Chapter Leader of the Year. She was nominated by the DVC DECA chapter for this honor. "I love my chapter and appreciated that they saw me as a leader," Wilson stated. "Being a leader inside and outside the classroom is not just about good grades, but also being welcoming to others and being vocal when you need to be vocal."
"A lot of events in DECA were fun, especially during SCDC (State Career Development Conference)," said new DECA member, 11th grade marketing student Alvin Liu. "I've gotten the opportunity to see more into the sides of marketing, business, and management, all of which are appealing and interesting to me."
The DVC chapter looks forward to welcoming the next generation of marketing and business leaders at DVC in the coming years.