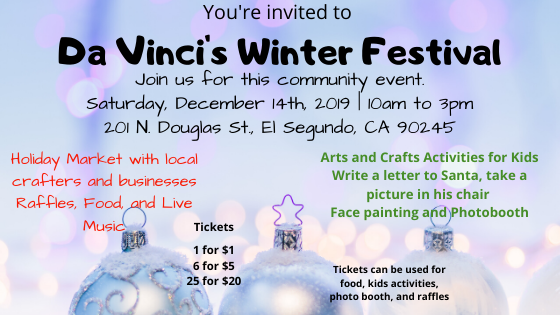 Da Vinci's Winter Festival and Holiday Market – Dec. 14th
Celebrate the spirit of the season at Da Vinci's Winter Festival & Holiday Market this Saturday, December 14th from 10 AM to 3 PM, at 201 N. Douglas Street, El Segundo.
Crafts, food, live music, raffles, kids activities … and, of course, great gift shopping from local artists, crafters and others. You'll find something for everyone on your holiday gift list! All proceeds will go toward Leadership and Prom activities.
Bring your families and friends to this community event!
We are still looking for local artisans and vendors who sell a variety of unique gifts, jewelry, kid-friendly items, stocking stuffers, health and wellness items and more. Contact Kat Ramos for more information at dvsleadership@davincischools.org.
We hope you can join us!