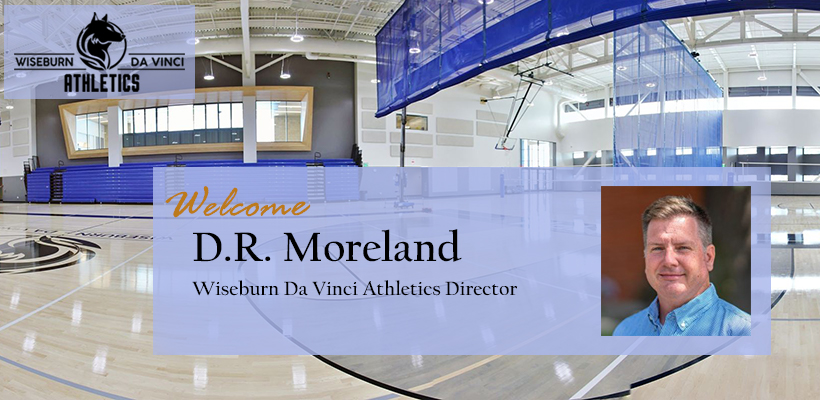 D.R. Moreland Named as New Wiseburn Da Vinci Athletics Director
We are excited to announce that Donald "D.R." Moreland has been named Athletics Director of the Wiseburn Da Vinci Athletics Program. D.R. assumed his duties last week.  
D.R. has more than 20 years of experience as an administrator, athletics director, and passionate educator specializing in youth development, managing relationships across diverse populations highlighting community involvement, and a commitment to academic and athletic achievement.
Prior to Da Vinci, D.R. was the Athletic Director at La Cañada High School. He also served in several roles at San Marino High School as Athletic Director, Assistant Principal, Head Varsity Coach & Physical Education Teacher. D.R. has extensive experience with C.I.F. rules and regulations. 
"We are tremendously excited to have D.R. join our team. He has a wealth of experience to lead our athletics department and community into the future," said Dr. Matthew Wunder, Da Vinci's CEO/Superintendent. Tori Grafeman, Interim Athletics Director, did a wonderful job in her role and continues to be a highly valued member of the Da Vinci organization. 
D.R. is coming at an exciting time for the Wiseburn Da Vinci Athletics Program which has been given the green light by the CIF Southern Section Executive Committee to move from Small Schools Area 9 to Coast Area 2, paving the way for re-leaguing which will place WDV in a league within the South Bay Athletic Association.  This move will benefit our student-athletes by providing a more competitive experience, more consistent game schedules, additional team levels, shorter travel times, and more.
D.R. was born and raised in Southern California graduating from San Marino High School. He attended Menlo College where he played football for four years and earned a B.A. in Communications. He holds a single subject teaching credential in Physical Education and an administrative credential both from the University of La Verne.
D.R. was selected from a pool of 72 candidates. Seven applicants were chosen to move forward in the screening process. The top four candidates were interviewed by a joint Wiseburn Da Vinci Interview Panel comprised of Wiseburn and Da Vinci administrators, Wiseburn community members who are parents with students attending both Wiseburn and Da Vinci schools, student-athletes, and coaches. We are deeply grateful to our panel members, as well as to Wiseburn Superintendent Dr. Blake Silvers for his athletic director expertise and for helping us through this process. 
Welcome, D.R.!