A 21st century education
We are a public charter school network serving more than 2,500 students in grades TK-Career from 100+ zip codes in five high schools, a unique elementary model combining homeschool instruction with school-based learning, and a post-secondary pathway leading to college degree completion.
Da Vinci Schools' college and career-ready model puts project-based, real-world learning aligned to workforce needs at the center of a collaborative learning environment where students are known well and valued. Industry and higher education partners play a vital role by connecting the education to employment pipeline so students are prepared for college, career and life.
We do things differently
Learning is different at Da Vinci Schools. It's up close. Personal. Hands-on. Our goal is to graduate students who are college-ready, career-prepared, and community-minded.
At a Glance
1
post-secondary pathway leading to college degree completion
2
miles from LAX and the beach, Da Vinci Schools are surrounded by aerospace, tech and creative neighbors
98
%
of Da Vinci graduates have successfully completed the A-G subject requirements (a rate 51% higher than the state average)
1
Groundbreaking district-charter partnership model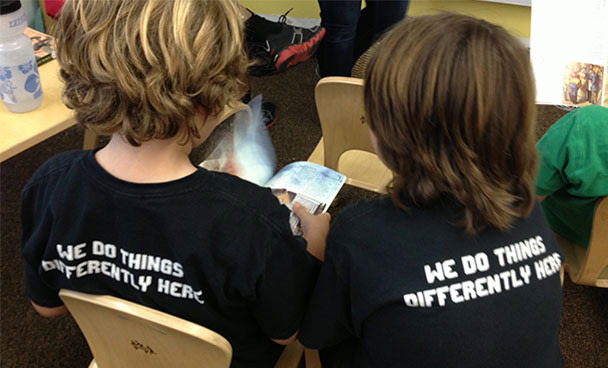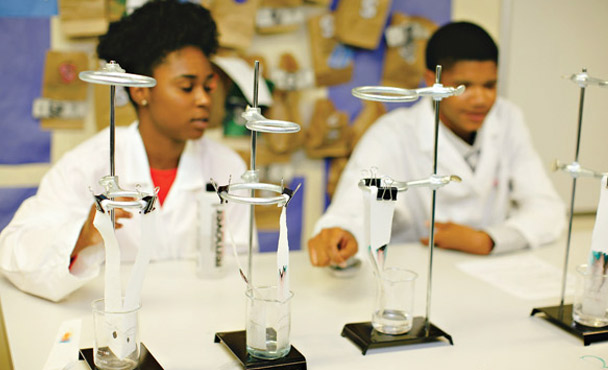 Impact
3000
+
educators from 6 continents have come to Da Vinci to study our best practices
1600
+
Da Vinci students have gained valuable workplace skills through project consults, work experience and internships
100
+
industry partners, including Belkin, Northrop Grumman, Chevron, Boeing, Gensler, SpaceX, Children's Hospital L.A. & many more engage with Da Vinci to provide a bridge between the classroom and the workplace
#
1
"Da Vinci Schools are among the very finest I've seen." – Dr. David Brown, former Executive Director, Western Association of Schools and Colleges (WASC)
1
of only 10 schools in the U.S.
to win a $10 million XQ 'Super School'
grant to reimagine high school
1
of only 8 schools in the nation to win
a Wave III Next Generation Learning
Challenges grant for innovation in
college readiness and completion
1
of Getting Smart's 75 Top
School and Charter
Networks in the nation
We exist as an organization to serve students to the very best of our individual and collective abilities.
We believe schools can make a profound difference in the lives of children, communities, and the future workforce.
We work towards a shared mission, vision and purpose around project-based learning, real-world connections, and professional growth.
We approach our work with humility, honesty and a growth mindset, and we encourage and celebrate success, progress, and risk-taking.
We actively strive for equity and value diversity in all of its forms and consider it to be one of our greatest strengths.
We have good intentions and assume that of our colleagues.
We speak directly and respectfully to each other when issues or disagreements arise between us and seek mutual understanding.
We create and cultivate a cohesive, caring and trusting environment that is best for both students and adults in our community.
We have a collaborative, open-source mentality.
Integrity, both collectively and individually, are at the core of how we conduct ourselves.
We are humble stewards of our organization's resources.
History
2008
The K-8 Wiseburn School District authorized two independent charter schools, known as the Wiseburn 21st Century Charter Schools, to provide a neighborhood high school option for its residents and other students. In an ideation workshop, students named the schools Da Vinci Schools after Leonardo da Vinci who was accomplished in both the arts and sciences, and who learned by doing. This integrated approach to learning was the vision for Da Vinci Schools.
2009
Da Vinci Science and Da Vinci Design High Schools officially opened their doors on August 18, 2009 in Hawthorne, CA, with 445 students.
2010
Wiseburn voters approved $87 million in local bond Measure AA monies to build a new high school campus.
2011
The Da Vinci Innovation Academy opened its doors on August 25, 2011, offering families a new hybrid approach to K-8 education that combines school-site instruction with home-based learning.
2012
Da Vinci Schools was one of only eight projects in the nation awarded a Wave III Next Generation Learning Challenges (NGLC) grant, funded by the Bill & Melinda Gates and The William and Flora Hewlett Foundations, to start a new high school-college pathway with a real-world, project-based curriculum and an increased focus on computer-based instruction.
2013
Funded in part by the NGLC grant, Da Vinci Communications opened with 64 9th grade students and an optional 5th year of high school providing students the opportunity to complete up to one year of college credit while in high school.
2014
Da Vinci was awarded $52.7 million in state matching funds through the Charter School Facilities Program to complete the new high school campus at 201 N. Douglas Street in El Segundo, in partnership with the Wiseburn Unified School District.
Wiseburn Unified School District, formerly Wiseburn School District, became California's newest K-12 unified school district on July 1, 2014. Da Vinci Schools serve as Wiseburn Unified's "home" high schools.
2015
Da Vinci launched Da Vinci Extension (DVX), a post-secondary pathway leading to college degree completion, in partnership with UCLA Extension. DVX later added a second higher education partner, College for America at Southern New Hampshire University to provide Da Vinci students with an affordable pathway leading to A.A. or Bachelor's degree completion at Da Vinci.
Da Vinci Schools and Wiseburn Unified officially broke ground on a new world-class, 21st century high school campus in El Segundo, CA, slated to open in Fall 2017.
2016
The Da Vinci RISE High model was created with the help of 30 founding students. RISE High was one of only 10 schools in the nation to win a $10 million XQ 'Super School' grant to reimagine high school. RISE High was created for youth in need of a flexible learning schedule, including students experiencing housing instability, foster youth, and students who are extremely credit deficient.
2017
Da Vinci Communications, Da Vinci Design and Da Vinci Science high schools moved into a four-story, innovative new campus designed by Gensler, located at 201 N. Douglas Street, El Segundo, CA. Each school occupies one floor. Da Vinci Science is housed on the second floor, Da Vinci Communications on the third floor, and Da Vinci Design on top. Da Vinci and Wiseburn administrative offices occupy the first floor in an unprecedented district-charter partnership.
RISE High opened a second site in South Los Angeles at A Place Called Home to provide robust educational opportunities and wraparound counseling, tutoring, and diverse extracurricular opportunities for chronically underserved students who have become disconnected from the traditional school system because of circumstances like homelessness and foster-care placement.  LEARN MORE >
2018
Da Vinci Innovation Academy officially re-launched as Da Vinci Connect. LEARN MORE >
The LA County Board of Education unanimously approved Da Vinci RISE High as a countywide charter, allowing Da Vinci to provide RISE students with access to a consistent school environment so they may maintain academic progress toward graduation even when they move across district boundaries. The Wiseburn-authorized RISE High closed and RISE High re-opened as a LACOE-authorized charter in September 2018.
Da Vinci Schools is a founding partner of the Transforming Learning Collaborative, in partnership with Next Generation Learning Challenges and Schools That Can, to mentor educators who seek to incubate new schools or redesign existing schools.  LEARN MORE >
2019
The Da Vinci Schools Fund launched to serve as the philanthropic (education foundation) of Da Vinci Schools.
2020
Da Vinci Connect moved to its new home at the Del Aire Campus, located at 12501 Isis Avenue, Hawthorne, CA.
Da Vinci Connect's charter petition is modified to serve students in TK-College. Da Vinci Connect High School launches in Fall 2020, combining hybrid learning (on-campus and remote) with early college, social emotional learning and real world learning.