We're thrilled to announce that Da Vinci Innovation Academy has officially relaunched as Da Vinci Connect!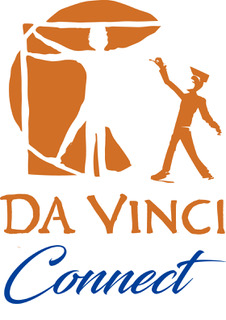 Eight years ago, we set out to develop a hybrid-style homeschool program that was a relatively new kind of model. Today, they are becoming more popular by the day. Also, the word "innovation" can bring a connotation of STEM, technology and science-based learning, which are awesome foci but not our mission at Da Vinci Connect. The word "academy"… well, we were never one of those!
What we are is a hub for like-minded families seeking involvement in their children's education, flexible schedules, friends, collaborators, and individuals who understand your commitment and your needs.
We are about connecting. Connecting students with each other and the real world through collaborative projects, parent educators with each other through workshops and social events, students and parent educators with passionate and caring teachers, and so much more.
Our new name is mission-aligned to who we are and what we do. In the coming weeks, we will unveil a new Da Vinci Connect website with more information to stay connected. Stay tuned.
Please join us as we celebrate the new school year and all of the amazing students, families, teachers, staff and partners who make up our community. We have even more to celebrate this year. In June, we received a 5-year renewal of our charter, the maximum length a charter can be granted in the state of California.
Thanks for being part of the Da Vinci Connect community!