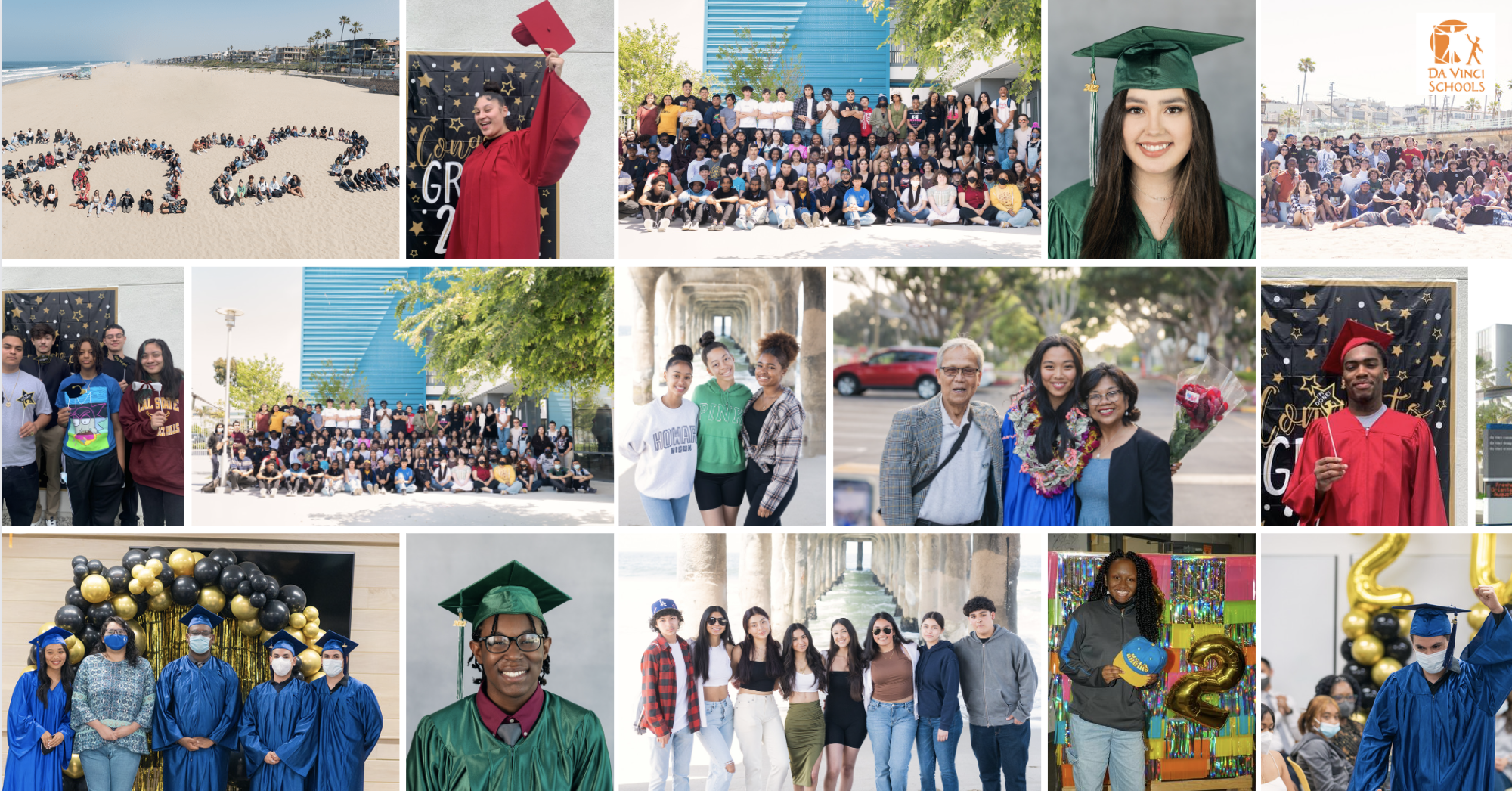 Congratulations, Class of 2022 Graduates!
This week, we proudly celebrate 470 seniors from Da Vinci Connect, Communications, Design, RISE and Science high schools who are graduating at in-person ceremonies.  We also celebrate our 57 8th grade Connect students who will walk across the stage at 4pm today. All of our 2022 graduates should take extra pride in how you cared for and supported each other this year and throughout the pandemic. We are thrilled to honor you and are so proud of your tremendous accomplishments, positivity and resilience. All ceremonies held at Da Vinci will be livestreamed for families and friends who cannot attend (details below).
Our Class of 2022 graduates have been accepted to a wide range of right-fit colleges and universities across the nation, including UC Berkeley, UCLA, and Stanford University, Johns Hopkins University, USC, Loyola Marymount University, Howard University, Savannah College of Art and Design, Cal Poly San Luis Obispo, Southern New Hampshire University, El Camino College, and many more! Whether you are planning to attend a community college, Da Vinci's own free college program
Da Vinci Extension
, a 4-year university, a certificate program, the military, or you're going straight to the workforce, we are deeply proud of you!! >>
See Class of 2022 College Acceptance List
Additionally, we are thrilled to announce that four DVX students completed their bachelor's degree and one completed an AA degree through Southern New Hampshire University this year — all at no cost to families. Connect High senior Kylia Cariaga is the first Da Vincian to graduate high school with both an AA degree and a high school diploma!  Two DVX students are transferring to California Baptist University and Cal State Dominquez Hills. 
DVX students also successfully completed project consults at Children's Hospital L.A., ESMoA, American Heart Association and Sprouts of Promise, and internships at Belkin International and Da Vinci Connect TK-8. Connect High and DVX celebrated their graduates on Monday. 
We are deeply grateful to all our students and families, teachers and staff, board members, and community partners for your tireless work in support of our vision of preparing students to lead, innovate and thrive in the modern world.
2022 Graduation Livestream Info
Da Vinci RISE High
June 8, 2022 | 6:00PM
off campus – no livestream
Da Vinci Communications
June 9, 2022 | 11:00AM
Da Vinci Science
June 9, 2022 | 2:00PM
Da Vinci Design
June 9, 2022 | 5:00PM
Tickets are required to attend in-person graduations. Masks are strongly recommended. Congratulations, graduates!!!