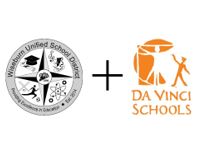 The Wiseburn Unified School District and Da Vinci Schools are excited to share that Da Vinci Connect, currently located on the Aviation Campus, will relocate to the Del Aire Campus in January 2020 following several months of site upgrades.
Da Vinci Connect offers kindergarten through 8th grade families a unique learning model that combines homeschool and on campus instruction using project-based and social emotional learning.
Da Vinci Connect's enrollment will not exceed 250 students on the Del Aire Campus on any given day. Staff will begin moving into their classrooms and offices on January 3rd, 2020. Students will begin their first days of school at the Del Aire Campus on January 13th, 2020. Both Wiseburn and Da Vinci are committed to keeping enrollment numbers low and minimizing traffic congestion on and around the Del Aire Campus. Wiseburn community members and other stakeholders are invited to visit the renovated Del Aire Campus, located at 12501 Isis Avenue, at the Da Vinci Connect K-8 Community Open House on Friday, January 10, 2020, from 5:00-6:30pm. We hope you can join us!
The Wiseburn Unified School District is currently developing a long-range facilities master plan with Wiseburn community stakeholders to determine which Wiseburn schools and programs may be housed on the Del Aire Campus in the future.
Meet & Greet
A Meet & Greet will be held on Tuesday, January 21, 2020 from 6:00-7:00 pm at the Blackbox Theater (new time & location), located at the high school campus at 201 N. Douglas Street, to propose Da Vinci Schools' breakthrough model that merges high school and college. If approved, Da Vinci Connect High School will not be located on the Del Aire Campus or any Wiseburn property. Students who attend Da Vinci Connect High School will have the opportunity to earn a high school diploma and up to a bachelor's degree simultaneously for free. (Da Vinci Extension, located at 2141 Rosecrans Avenue, will merge into Da Vinci Connect High School and will remain on Rosecrans Avenue.) Wiseburn Residents will be guaranteed a spot to attend Da Vinci Connect High School. A brief history of the Wiseburn + Da Vinci relationship will also be presented at the Meet & Greet, including how both the District and Charter benefit from this unique relationship.
All Wiseburn and Da Vinci schools provide a world-class education for the 21st century with responsive school models in a small and personalized learning environment. We are enormously proud of the teaching and learning taking place at all of our schools.
Sincerely,
Blake Silvers, Ed.D.
Superintendent of Schools
Wiseburn Unified School District
Matthew Wunder, Ed.D.
Chief Executive Officer
Da Vinci Schools