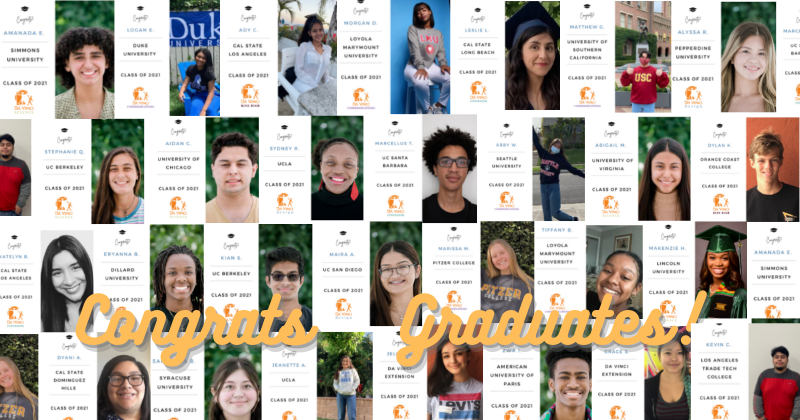 Da Vinci Graduations: In-Person and Livestreamed
Join us as we proudly celebrate 400 seniors from Da Vinci Communications, Design, Science, and RISE high schools who are graduating this week at in-person ceremonies.  We also celebrate our 45 8th graders who will walk across the stage on Thursday, and our Class of 2020 graduates who will participate at an in-person ceremony next Monday. All of our 2020 and 2021 graduates should take extra pride in how you cared for and supported each other through the past 15 months. We are so proud of your positivity, adaptability, creativity and resilience! All ceremonies will be livestreamed for families and friends who cannot attend (details below).
Our Class of 2021 graduates have been accepted to a wide range of right-fit colleges and universities across the nation, including every UC and Cal State, and Yale University, Stanford University, Princeton University, USC, UCLA, UC Berkeley, Rochester Institute of Technology, Duke University, Howard University, Savannah College of Art and Design, Cal Poly San Luis Obispo, Southern New Hampshire University, El Camino College, and many more!  We are so proud of each and every one of you!
Additionally, we are pleased to announce that two DVX students completed their AA degree through Southern New Hampshire University this year, one student received an AA degree through El Camino College, and one Connect High junior received her AA degree through SNHU — all at no cost to families. DVX students also earned college credits and are transferring to 4-year colleges and universities, including UC Santa Barbara, UC Riverside, CSU Long Beach, and more. DVX students also successfully completed remote internships at Belkin International and NuVooDu, and project consults at ESMoA, Leadership Hermosa Beach, Connect High, and Sprouts of Promise. 
We are deeply grateful to all of our Da Vinci and Wiseburn students and families, teachers and staff, board members, and community partners for your tireless work in support of our vision of preparing students to lead, innovate and thrive in the modern world. 
2021 Graduation Schedule & Livestream Info
Da Vinci Livestream (all ceremonies)
https://www.twitch.tv/davincischools
Da Vinci Science
June 7, 2021 | 4:00PM
Da Vinci Design
June 8, 2021 | 4:00PM
Da Vinci Communications
June 9, 2021 | 4:00PM
Da Vinci Connect 8th Grade Promotion
June 10, 2021 | 10:00AM
Da Vinci RISE High
June 10, 2021 | 3:00PM
Class of 2020 Graduation (combined) – RSVP here
June 14, 2021 | 12:00PM
(In accordance with the required Los Angeles County Department of Public Health and California Public Health Department Graduation protocols, Da Vinci is requiring the use of pre-registration, entry health screening, face masks for all attendees regardless of vaccination status, and maintenance of 6 feet between graduates, staff members, and household groupings for all in-person ceremonies.)